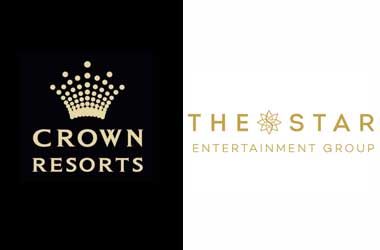 Summary
State regulators not keen to punish Crown and Star executives
Gambling opponents not happy with casino executives getting away with illegal activities
AUSTRAC could launch a probe into senior casino executives
Australian casino operators Star Entertainment and Crown Resorts are currently confronting several allegations of breaching the country's anti-money laundering/ counter-terror financing (AML/CTF) laws.
However, the state governments and gambling regulators do not wish to hold the companies' staff or executives accountable for their role in the matter.
Their lack of discipline has faced flak from concerned gambling reform activists and researchers.
Activists and Researchers Lament Lack of Trial
Regulatory authorities in Victoria, New South Wales (NSW) and Western Australia (WA), and the Australian Securities and Investments Commission (ASIC) do not wish to hold any individual responsible for the issues. Gambling researcher Dr. Charles Livingstone from Monash University and Alliance for Gambling Reform's Carol Bennett lamented the lack of consequences for people complicit in such offenses.
While several executives have stepped down from their positions in the companies, they continue to defend themselves. Ex-Crown chairperson Helen Coonan has continually contested her involvement in the matter as a board member. Group associates, such as Crown directors Andrew Demetriou and Harold Mitchell, were grilled intensively concerning other offenses and breaching their duties during their respective tenures.
Both Star and Crown underwent turnovers after the investigations. Star was probed by the Bell and the Gotterson inquiries while Crown was subjected to the Royal Commission and Bergin probes into their deceptive and dysfunctional conduct. The investigations found that the companies fostered criminal infiltration and money laundering activities breaching state, federal, and international laws.
As of now, the ASIC and regulators in WA and NSW haven't pressed any charges against the involved persons due to insufficient evidence. NSW Independent Casino Commission's (NICC) Philip Crawford said that although the new legislation can impose severe fines on defaulters, individuals cannot be subjected to disciplinary action. The ASIC refused to comment on its current investigation into Star.
Associates Might Face AUSTRAC Probe
Although erstwhile board members of Crown and Star are more or less safe from the regulators, they might face a probe from financial crimes watchdog Australian Transaction Reports and Analysis Center (AUSTRAC). In the past, the body has imposed strict fines on offenders for violating AML/CTF laws, the latest being Westpac which incurred a $1.3 million penalty in 2020.
AUSTRAC chief Nicole Rose accused Crown's management of poor governance, and failure to fulfill its duties, which weakened Australia's financial system. Meanwhile, Star has to prove its suitability to retain its Sydney casino license on 27 September 2022.