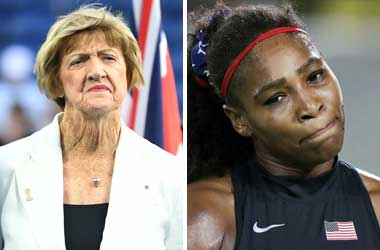 Summary
Margaret Court holds the record for the most singles grand slam wins in women's history
Court said Serena Williams has never paid her the respect she deserves
Court said modern day players have it much easier than players from her era
Aussie legend Margaret Court feels unwelcome in the world of tennis even though she holds the record of having 24 Grand Slam singles titles to her names in the women's singles division.
Court criticized Serena Williams in particular, saying she admires her as a player but Williams doesn't feel the same way towards her. The American tennis player who comes second to Court in Grand Slam singles titles with 23 retired from professional tennis in August 2022.
Comparing her achievements to that of Williams, Court said she retired from the game seven years earlier than Williams. From 1960 to 1973, she won 24 Grand Slam singles titles, and that period covers the years when she became a mother. Williams hasn't won any Grand Slam title since having a child, Court said.
Williams took part in the US Open in what would be the final tournament of her career but crashed out of the game following a third-round loss to Ajla Tomljanovic on September 2.
The US Open is in full action with not only the Women's Draw open but also the Mens, who will win this year titles? Check out the latest odds from our selected US Open betting sites.
Court said Williams should have given Tomljanovic enough recognition when she made her US Open exit because that's what players must do – "honor and respect our opponent".
In recent years, Court has drawn criticism for her controversial views on sensitive subjects including same-sex marriage, homosexuality, and transgender people, and that could have been one of the main reasons why the tennis world and even her home country don't want to mention her name. The 80-year-old is aware of that, saying she has not been given the recognition that she deserves for all of her accomplishments in the sport because of her Christian beliefs.
Court has been very vocal about his stance on transgender people, labelling them as "the work of the devil". Over the years, she has been a strong critic of LGBT athletes, saying "they're not good role models". Court also supports South Africa's apartheid policy which has often been linked to racism. Court currently serves as a senior pastor of the Victory Life Centre in Perth, a Pentecostal church she founded in 1995.
Easier For Players Today
Comparing what tennis players had to go through during her era to players today, Court said it was much harder back in the day – no psychologists or coaches, no family or friends to travel with you during competitions. Court said today's players must be able to see that and give proper recognition to the players who have paved the way for them to be where they are today in the sport of tennis!