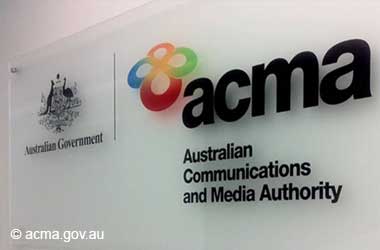 Summary:
ACMA said master license holders in Curacao are offering their products in the Australian market
ACMA notified Curaçao's Ministry of Finance of the licensees' illegal activities
Curaçao is set to implement major reforms to its online gambling licensing system
The Australian Communications and Media Authority (ACMA) has alerted the Curaçao government of the illegal activities conducted in Australia by some gambling firms that are currently holding master licenses in the Dutch Caribbean island.
Curaçao Master License Holders Breaching Australian Laws
ACMA Deputy Chair Creina Chapman wrote to Curaçao's Minister of Finance Jvier Silvania, informing him that some Curaçao-licensed operators are offering their online gambling services to Australian customers without the necessary permits.
Under Australia's Interactive Gambling Act (IGA), gambling firms are prohibited from offering online casino games and online pokies to Australians. Sports betting is allowed but only on licensed platforms. This makes it illegal for unauthorized gambling operators to promote or provide their services in the Australian market.
ACMA has intensified its efforts to get rid of illegal online gambling sites catering to Australian players. The agency has the power to order Australian internet service providers to block unlicensed offshore gambling sites. So far, a total of 709 sites have been blocked, with Wild Fortune Casino, Casino Jax, N1 Bet Casino and Slotozen among the latest to be hit with enforcement action.
Curaçao Warned Of Upcoming Online Gambling Reforms
In her letter to Minister Silvania, Chapman affirmed that information that they have regarding the illegal practices of the master licensees in question may help the Curaçao Gambling Authority (CGA), the territory's newly-established gambling regulator, in evaluating whether or not they should continue to hold a license under Curaçao's new regulatory regime.
The Curaçao government is currently looking into proposals for a major reform of its online gambling licensing system which is considered one of the most liberal in the world. Under the current regime, two types of licenses – the master license and the sub-license – are issued to gambling firms.
The Ministry of Justice grants the master licenses, and the master license holders are authorized to issue sub-licenses on their own terms. But that could change in the future as the government is keen on developing a licensing framework for B2B and B2C businesses with new license fees. Curaçao's gambling industry will be overseen by the new regulator, the CGA.
At the moment, there are just four master license holders in Curaçao, and all licensed operators will be required to re-apply for licenses under the new changes.
Chapman said that the global nature of online gambling presents some challenges, especially in terms of enforcing the rules as a lot of operators are licensed in other countries. ACMA is looking forward to engaging with the CGA and sharing information on Curaçao-licensed firms that are violating Australia's online gambling laws.