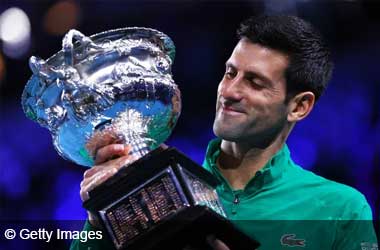 Summary
Australia deported Novak Djokovic in 2022 and issued a 3 year ban on entering the country
The ban was due to the fact that Djokovic refused to be COVID-19 vaccinated
Australia set to overturn 3 year visa ban to enable Djokovic to play 2023 AU Open
Novak Djokovic made headlines in Jan 2022 not for his exploits at the 2022 Australian Open but for the way he was treated in Australia.
Djokovic showed up in Australia with a medical exemption allowing him to enter the country without a COVID-19 vaccination which Australia made mandatory for all international travellers.
Australia Bans Djokovic For Three Years
There were protests from certain quarters that Australia was dishing out preferential treatment to Djokovic just to get him to play the 2022 Australia Open. Australia decided to set an example and suddenly decided to cancel Djokovic's visa and deport him from the country.
The Serbian star was ungraciously kicked out of the country and as per immigration laws was handed a 3 year visa ban after being deported. The visa ban was yet another slap in the face for Djokovic and his fans who felt that Australia had mistreated and mishandled the entire process.
Australia has since dropped its mandatory COVID-19 vaccination requirement for international travellers and this paves the way for Djokovic to play at the 2023 Australian Open which starts on Jan 16. For that to happen, Australia needed to lift the 3 year ban.
Tennis Australia Confident Djokovic Will Play In 2023
Djokovic's legal team are currently in talks with the Australian government to get his 3 year visa ban lifted. Djokovic is one of the biggest draws in tennis and his presence will be a massive boost for the 2023 Australian Open.
Tennis Australia head Craig Tiley said that he was aware Djokovic's team were in talks with government officials but said no official decision has been taken (as of this writing). However, Tiley said that he was very confident that Novak Djokovic will be a part of next year's Australian Open.
Tiley also clarified that there were no hard feelings between Djokovic and Tennis Australia over how he was treated earlier this year and said Djokovic was very keen on playing at the Australian Open. Djokovic has won 9 Australian Open championships, last being in 2021 which he was looking to defend before all the issues arose, he will look to win his 10th AU Open in 2023, should his visa ban get lifted!