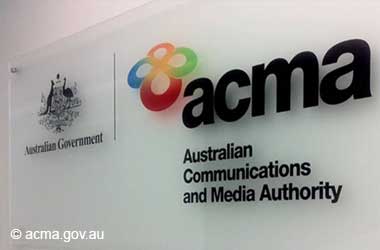 The Australian Communications and Media Authority (ACMA) has taken its job of blocking untrustworthy gambling sites quite seriously. Namely, the ACMA plans to shut down all unregistered and unlicensed gambling websites currently available to the Australian gambling public.
Recently, the ACMA has blocked five more gambling websites targeting the Australian market. The list of unauthorized websites includes Koala Royal, Juicy Stakes, Jackpot Jill, National Casino and Grand Rush.
The ACMA has taken on this massive shutdown after a series of complaints from the public and thorough investigations.
Namely, the ACMA discovered that all five websites are in direct violation of the Interactive Gambling Act of 2001. This violation is quite serious since all five websites have been freely operating in AU. Consequently, the ACMA issued an announcement on its official website saying that blocking these types of websites alerts the public about shady and unauthorised gambling activities. So, when someone attempts to access such sites, they will be alerted via a pop-up message.
The ACMA warns players that even when they come across gambling websites that seem legitimate, they are unlikely to have noteworthy customer protection. That's why many players end up using gambling services that are illegal and risk losing their hard-earned money.
A month ago, the ACMA requested that internet service providers block affiliate websites promoting or advertising gambling activities online. This campaign has been in action since 2019, and since then, it has blocked 295 illegal gambling websites operating in the AU market. Similarly, 140 services have been pulled from this market due to the same reasons. This shows a continuous effort from the ACMA to ensure Australian players online safety.
Internet scams are responsible for over $100 billion in both company and personal losses. Regulatory bodies have been established to reduce this number. That's why the ACMA is on a serious mission of blocking illegal websites, ensuring AU players have a safe online experience.
Statistics have shown that online gambling has increased by 67% during the pandemic, making this mission even more important now. With the increasing number of online gamblers, the chances of encountering fraudulent sites are even higher.
What's more, such behaviour is expected to continue in the future because online gambling is an upward trend. Experts believe global online gambling especially pokies revenue will exceed $92 billion by 2023 or even $100 billion by 2025. This is a direct result of easy online access to gambling, rich gambling portfolios, and hefty promotions. That's why the ACMA has a serious mission in mind that will help reduce unfortunate gambling outcomes online.