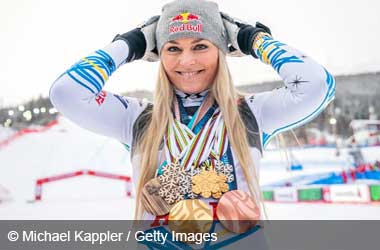 Lindsey Vonn is arguably the most popular female skiing champion in the world today and her popularity is well founded. She holds the record for winning more medals in history than any other female skier in the game and she is also an Olympic Gold Medalist.
Lindsey is immensely popular not only because of her skiing accomplishments but also because she is very beautiful and uses social media to motivate her fan base all over the world. She has more than 1.7 million followers on Instagram and uses her platform to keep her fans informed of what is going on in her life.
Her fans were aware that she had decided to call time on her career and the FIS Alpine World Ski Championships in Sweden was going to be her final farewell.
The 34 year old was in jeopardy of her World Championships cut short after she had a crash during the super-G race yesterday. However, being the champion that she is, she recovered and was determined to finish her career on a high note and that she did.
euronews (in English)
Vonn complete the final race of her career and finished in third place to win a bronze medal and prove to the world yet again that she is still at the top of her game and it is only injuries that has forced her to call time on her career. Vonn admitted that she was nervous during the final race of her career as she really wanted to do well and win.
The win at the World Championships gives her the distinction of being the only female skier to participate in six World Championships and win medals at all of them.
Injuries Bring About Early Retirement
If it was up to her, she would continue to keep skiing as she believes that she has more left in her. However, her body will not allow her to keep going and that is primarily because she has suffered some nasty injuries throughout her career which has made it very difficult for her to keep competing at the highest level.
In her Instagram post announcing her retirement, Vonn said
My body is broken beyond repair and it isn't letting me have the final season I dreamed of. My body is screaming at me to STOP and it's time for me to listen.