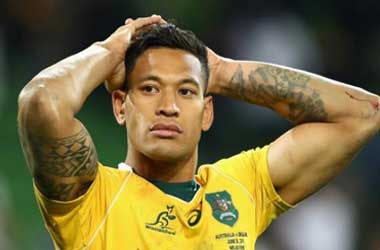 Australian rugby player Israel Folau caused a national outcry back in May when he took to social media to bash gay people and tell them that they were going to hell. Australians felt that he was being biased and they wanted his head on a chopping block and Rugby Australia (RA) delivered.
Folau who has played 73 times for his country was expected to be a key player for Australia in the 2019 Rugby World Cup in Japan. However, he was dropped from the team because of his comments against gay people and abortion. Australia suffered due to his absence and crashed out in the semi-finals.
Israel Folau who is a staunch Christian delivered a sermon at a church in Sydney and preached hell's fire and brimstone. He spoke about the raging bushfires across Australia this year which has resulted in the death of 6 people and attributed it to God's judgement on the country for supporting same sex marriage and abortion.
Folau said that the bible teaches there is judgement when a nation sins and these bushfires were a sign that God wanted Australia to repent. His sermon once again caused a national outcry and a number of public figures condemned his comments including Australian Prime Minister.
Sky News Australia
In a statement, Prime Minister Scott Morrison said
He is a free citizen, he can say whatever he likes but that doesn't mean he can't have regard to the grievance and offence this would have caused to the people whose homes have burnt down.
There were also a number of public figures and sportsmen and women who took to social media to bash Folau for being insensitive and asked him to button it up.
Rugby Australia Sued By Folau
Folau has filed a lawsuit against Rugby Australia over wrongful termination due to his Christian beliefs. He was one of the highest paid rugby players in the country but it looks like his biblical beliefs are a little too much for Rugby Australia and the general public to accept.
I confirm I have commenced court proceedings against Rugby Australia and NSW Waratahs. Thank you to those who have supported me over this journey – it has meant so much to Maria and me. God bless. pic.twitter.com/Ojgw9uRw79

— Israel Folau (@IzzyFolau) July 31, 2019
Rugby Australia has claimed that they have warned Folau in the past to be careful about his Christian beliefs and what he shared on social media. However, the 30 year old ignored all of those warnings and hence Rugby Australia claims they had to terminate his services due to a breach of conduct.