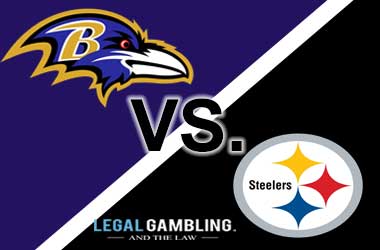 Two AFC North rivals face off in primetime Sunday Night when the Ravens travel to Pittsburgh to take on the Steelers. The Steelers lead this storied rivalry all time 24-20, and the Steelers have won the last 3 matchups.
The Ravens are coming off a 24-14 win against the Broncos. Week 1, the Ravens stomped the Buffalo Bills 47-3, and lost to the Bengals 34-23.
The Steelers tied the Browns 21-21 week 1, and lost a 42-37 shootout with the Chiefs week 2. Last Monday, the Steelers survived a furious comeback against the Buccaneers by a score of 30-27.
Oddsmakers currently has the Steelers as 3 point favourites at home, with an O/U total of 50.5.
Baltimore Ravens
Joe Flacco and the Ravens are coming off an impressive win in Denver. Flacco played possibly the best game of his young season.
With rookie sensation Lamar Jackson breathing down his neck, Flacco has looked like the Joe Cool of old. Last week, Flacco threw for 277 yards and a touchdown, looking more and more comfortable with his new receivers, and not putting the ball in harm's way. The running back duo of Javorious Allen and Alex Collins has been extremely potent thus far. They have combined for 148 rushing yards and 5 touchdowns on the ground, and have also accumulated a combined 137 receiving yards and a TD.
The pass rush has been impressive, with 5 players with over 5 pressures, with Za'Darius Smith leading the way with 13 total pressures and 2 sacks. The secondary has been solid, and 2nd year cornerback Marlon Humphrey has built on his remarkable rookie year, only allowing 42 yards on 17 total targets this season.
Injuries and Inactive Watch
EDGE Terrell Suggs (knee)- Questionable, TE Hayden Hurst (foot)- Questionable. Expected to play
Pittsburgh Steelers
Ben Roethlisberger has been slinging it this season, and the Steelers passing attack has been impressive even with Antonio Brown not playing at the top of his game. Roethlisberger is 2nd in the league in passing yards with 1140, and has thrown 7 touchdowns as well as 4 interceptions (3 week 1 vs. Browns).
Big Ben and the Steelers started slow Monday night, going 3 and out on their first drive, and Roethlisberger throwing an interception on their 2nd drive. The Steelers then strung together 3 scoring drives en route to a 30-10 lead at halftime, with Ben throwing 3 touchdowns.
Superstar wide receiver Antonio Brown has not been his dominant self to this point this season. Brown has racked up just 117 yards and a touchdown the last 2 weeks against below average secondaries, and faces another tough challenge this week.
The defense has been the question mark this season for Pittsburgh. The pass rush has been doing it's job, with Bud Dupree, T.J. Watt, and Cam Heyward all tallying over 10 pressures so far this season. The secondary has been gashed, albeit their last 2 games have been against Pat Mahomes and Ryan Fitzpatrick (#1 and 2 in passing TDs). Cornerback Artie Burns in particular has struggled, allowing 204 yards on just 10 catches this season and giving up 3 touchdowns.
Injuries and Inactive Watch
CB Mike Hilton (elbow)- Questionable, WR JuJu Smith-Schuster (abdomen)- Questionable, S Morgan Burnett (groin)- Questionable
Matchups to Watch
Ravens OTs vs Steelers EDGE
Ravens WR John Brown vs Steelers CBs
Steelers WR Antonio Brown vs Ravens CB Marlon Humphrey
Steelers OTs vs Ravens EDGE
Predictions
This Baltimore Ravens team can no longer be underrated. After pulling out a double digit win against a gritty Denver team, the Ravens are much better than the public thinks.
Joe Flacco has been playing very well this season, barring a few bad decisions against the Bengals. He should have no issue against a simple Steelers secondary that lacks playmaking ability.
The Ravens offensive line is average however, and the Steelers will have to follow the same formula they did last week by getting to Flacco early and making him uncomfortable. Ben Roethlisberger and the Steelers are just hitting their stride offensively. They face a tough matchup this week against a pesky Ravens secondary, but that won't phase Ben. James Conner has done well replacing Bell's production on the ground and in the passing game, but he needs to have a big game down the stretch if Ben can't push the ball downfield the way he has the last few weeks. Antonio Brown needs to win down the field this week, and give Big Ben another outlet to go along with JuJu Smith-Schuster's productive young season.
The AFC North is known for it's high level of competition, and with that usually comes very close matchups. I still think Antonio Brown comes up big this week against a rival, and Big Ben continues to have success slinging the rock. Gimme Pittsburgh at home to cover, and start to really pick up steam.
Final Pick: Steelers (-3)