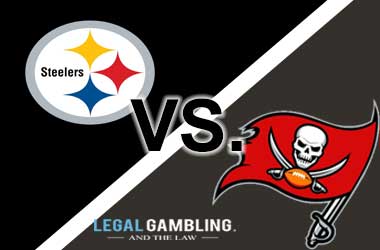 The Monday night matchup features two teams performing completely opposite of expectations. The Steelers are attempting to right the ship after tying the Browns and losing to the Chiefs while the Bucs have absolutely lit up the scoreboard en route to big wins over the Saints and Eagles.
Pittsburgh appears to be in flux, with pundits and former players questioning Mike Tomlin's grip on the locker room.
They're winless thus far after being an AFC powerhouse over the past few years, and appear to have another tough matchup against this upstart Tampa Bay team.
FitzMagic (sorry Minkah) is alive and well in Tampa, and their offense has been absolutely unstoppable. They hung 48 on a very good Saints team in week 1, and beat one of the best defenses in the league in the Eagles 27-21.
The Steelers are 1 point favorites at MyBookie, and the Over/Under total is set at 54.
Pittsburgh Steelers
The Steelers need to turn it around fast. They were torn apart by a young quarterback in Pat Mahomes last week to the tune of 6 passing touchdowns, and might be in for another such situation this week.
Despite his box score numbers, Big Ben has not looked great so far this season. Roethlisberger was intercepted 3 times in week 1, and has been responsible for 3 fumbles thus far. Against a bottom 5 secondary in the league last week, Ben consistently missed throws, and really hasn't been the same guy we've seen when pushing the ball down the field.
I don't even know where to start with the defense. Coverages and blitzes have been vanilla, and aside from T.J. Watt's hustle sacks, the front just isn't getting the same kind of pressure it was a season ago.
The back end was absolutely torched by Mahomes last week. Corners Cameron Sutton and Artie Burns combined to allow 3 touchdowns and 155 yards on 8 targets, allowing over 22 yards per catch.
Injuries and Inactive Watch
T Marcus Gilbert (hamstring) – questionable, G David DeCastro (hand) – questionable, S Morgan Burnett (groin) – questionable
Tampa Bay Buccaneers
Ryan Fitzpatrick is second in the NFL with 8 touchdowns, behind only the man mentioned above (Mahomes-10). The offense just looks different through 2 games than it ever has with Jameis Winston at the helm.
On passes traveling more than 20 yards in the air, Fitzpatrick is 6/8 for 282 yards and 4 touchdowns. Wide receiver DeSean Jackson appears revitalized as a deep threat, averaging 30+ yards per reception on his way to 275 yards and 3 touchdowns, all leading Buccaneers receivers.
The running game has been all but invisible. Running back Peyton Barber leads the Bucs backfield with 91 yards, and is averaging a paltry 2.6 yards per carry with a long run of 26. He has been dominating the touches, with 78% of the total touches on designed runs.
The defense has been a pleasant surprise to be honest. New additions on the edge Jason Pierre-Paul and Vinny Curry have combined for 14 pressures and 2 sacks, and rookie cornerback Carlton Davis looks like a steal.
Injuries and Inactive Watch
CB Vernon Hargreaves III (shoulder)- placed on IR, T Demar Dotson (knee)- questionable, S Chris Conte (knee)- questionable, EDGE Jason Pierre-Paul (knee)- questionable
Matchups to Watch
Steelers WR Antonio Brown vs Buccaneers CB Carlton Davis,
Steelers OL vs Buccaneers DL
Buccaneers WRs DeSean Jackson & Mike Evans vs Steelers CBs
Buccaneers iOL vs Steelers DI Javon Hargrave & Stephon Tuitt
Predictions
Both of these teams scare me right now, as I think they're both due to regress to the mean a bit. The Steelers should be 1-1, and you could make the argument that they should be 2-0, and I expect the defense to figure it out a bit more as the season progresses. The Buccaneers have been all the talk in the NFL, and rightfully so, but that offense is due for regression, and if we've learned anything from Ryan Fitzpatrick over the years, it's that he comes in and plays well in limited opportunities, but always comes crashing back to earth with a resounding thud.
With that said, we think both of these teams are set up for success this week. A one point line isn't something we are jumping all over on either side, but this should be a theme both of these teams carry on until they prove otherwise, and that is they can both put points on the board in bunches.
The Bucs do not want to run the ball, and Fitzpatrick will be airing it out early and often. Big Ben, being who he is, will want to match everything Fitz does and then some, and we expect the Steelers to get a bit more creative offensively to get Antonio Brown some easy targets.
We are jumping on the over and riding both these teams hot offenses to continue their early successes. I've seen it as low as 53 at some sites as of Thursday, so if you can find it lower, jump on it.
Final Pick: OVER 54