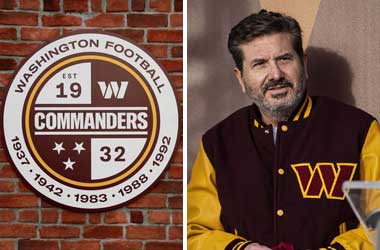 Summary
Dan Snyder is reported to be selling the Washington Commanders for $6 billion
Josh Harris who owns the Philadelphia 76ers will be the new owner when the deal is approved
The majority of Commanders fans are happy to see Snyder sell the NFL franchise
When Washington Commanders majority stakeholder Dan Snyder decided that he was going to sell the NFL franchise, it created a lot of interest as it is not often that an NFL franchise comes up for sale.
Towards the end of 2022, Snyder made it clear that he was going to sell the Commanders after he hired Bank of America Securities to facilitate the sale process. There were reports that Snyder was going to close a multi-billion dollar sale and those reports were confirmed this week.
Snyder Will Get $6 Billion For Washington Commanders
Sportico was the first news outlet to break the news that Snyder had secured a principle agreement with Josh Harris for $6 billion to sell the Washington Commanders. The sale contract will now have to be approved by the NFL's finance committee and by 3/4th of the remaining 31 NFL franchise owners.
The next NFL team owners meeting is set to take place on May 22-23 in Minneapolis and the deal should get majority approval from NFL team owners who were earlier in agreement for Snyder to step away from the Commanders due to serious allegations made against him and the Commanders.
Snyder was investigated for alleged sexual harassment and also discrepancies with the Commander's finances. Snyder initially wanted to stay on as team owner and sort out those issues but due to on-going pressure from the media and fans, made a decision that it was in the best interest of the team for him to sell it and move on. Multiple investigations into Snyder including the Federal case into a $55m loan will continue even as the sale process plays out.
The new owner is Josh Harris who owns the NBA franchise – Philadelphia 76ers and NHL franchise New Jersey Devils. Harris is joined by NBA legend Magic Johnson and billionaire Mitchell Rales who is from Washington D.C.
Washington Fans Happy To See Snyder Go
Washington fans turned on Snyder and have chanted in a few games 'sell the team!' While Snyder did admit he was disappointed to have to sell the team and move on, he will not be disappointed with the huge $6 billion payday.
Snyder bought the Washington Redskins back in 1999 for $800 million and would later change the team's name from Redskins to Commanders after he received flak for using the degrading term 'Redskins'.