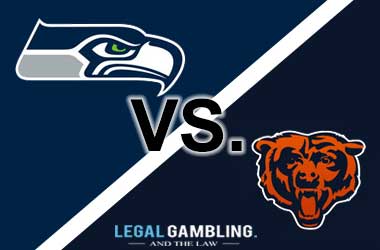 The Monday night matchup is intriguing. You have a star QB and one man show in Russell Wilson leading the Seahawks travelling to Chicago to take on an upstart team in the Mitchell Trubisky led Bears.
Khalil Mack's addition cannot be understated for the Bears. Mack was a menace against the Packers, filling the stat sheet with a sack, a tackle for loss, a forced fumble, and a pick 6.
The Seahawks were competitive in Denver last weekend in a back and forth game, losing by 3 points. Wilson performed his usual theatrics, absorbing 6 sacks and 2 interceptions but still throwing for almost 300 and 3 touchdowns. Visit BetOnline to find out the odds and place bet on this event.
Seattle Seahawks
The poor Seahawks cannot field an offensive line for the life of them. Von Miller dominated tackles Germain Ifedi and Duane Brown to the tune of 3 sacks, and center Ethan Pocic allowed 6 QB pressures of his own.
This week, the Seahawks face another challenge up front in Khalil Mack and Akiem Hicks. Russell Wilson is a magician at avoiding pressure, but facing Miller and Mack in back to back weeks is a scary proposition for any quarterback.
On the ground, Chris Carson led the Seahawks with 51 yards while averaging over 7 yards per carry. His emergence gives the Seahawks another threat offensively, and takes some of the weight off of Wilson's shoulders.
The new look Seattle defense held their own, and cornerback Shaquill Griffin has stepped up in Richard Sherman's absence. Star safety Earl Thomas didn't skip a beat after missing the offseason program, flying around the field and picking off a pass for 25 yards. Safety Bradley McDougald, who is stepping in for Kam Chancellor really showed out with 2 interceptions of his own, and not allowing a reception on 3 targets.
Injuries and Inactive Watch
WR Doug Baldwin (knee) – DNP Thurs. Out, LB KJ Wright (knee) – DNP Thurs. Doubftul, LB Bobby Wagner (groin)- DNP Thurs. Questionable, S  Bradley McDougald (knee) – limited Thurs. Expected to play
Chicago Bears
The Bears led the Packers last Sunday night 20-0 at one point, before Aaron Rodgers returned from injury and did Aaron Rodgers things. The Bears appeared complacent in the second half, and didn't realize Rodgers was mounting a huge comeback until it was too late.
Young QB Mitchell Trubisky impressed in the first half in Matt Nagy's new scheme. He showed a nice rapport with Allen Robinson early, targeting Robinson 7 times for 4 catches and 61 yards.
The Bears backfield is dynamic and versatile. Between Jordan Howard and Tarik Cohen, the Bears received 20 carries for 107 yards and 8 catches for 41 yards. Howard looked much improved as a pass catcher after not being able to catch a cold last year, catching all 5 of his targets.
Edge rusher Khalil Mack showed he was worth two first round picks and his new $140 million dollar deal. He provided the Bears with that edge presence they have been sorely missing the last few seasons. Mack lived in the Packers backfield, and is primed for another big day against a lackluster Seahawks O-line.
Injuries and Inactive Watch
G Kyle Long (ankle)- DNP Thursday. Questionable, CB Bryce Callahan (knee)- limited Thursday. Questionable
Matchups to Watch
Seahawks OTs vs Bears EDGE Khalil Mack
Seahawks WRs/TEs vs Bears Secondary
Bears RBs vs Seahawks LB Bobby Wagner
Bears Trey Burton vs Seahawks Safeties
Predictions
On paper, this game may not look that appealing. However, Russell Wilson is always worth the price of admission, and the Bears are a much improved squad that looks primed to make a run at the Wild Card.
Russell Wilson is going to face pressure early and often, as he does in most games, and will make no shortage of amazing plays, but he may be in line for another beating at the hands of Mack and Akiem Hicks. The Bears D is tough at all 3 levels, especially if first round pick Roquan Smith looks more comfortable in his second game.
Chicago offensively will face a tough task against an underrated Seahawks D. Seattle has playmakers in the back end, but Matt Nagy does a wonderful job of finding holes in opposing defenses and scheming to his players strengths.
The Bears will have a tough time getting their backs involved in the pass game against explosive linebackers like Shaquem Griffin and superstar Bobby Wagner, if he plays. Expect this game to be back and forth, coming down to the last drive or 2. Have a look at NFL betting sites page to find out the lest of rest of the games.
The Seahawks have a long list on the injury report, and their depth may not hold up defensively. If Trubisky can make some plays down the stretch, Nagy keeps the gas pedal down if they get a lead, and Khalil Mack can make a big play or 2 at the end of the game, look for Da Bears to walk away with the win and the cover.
Final Pick: Bears (-3) (Buy Half Point)