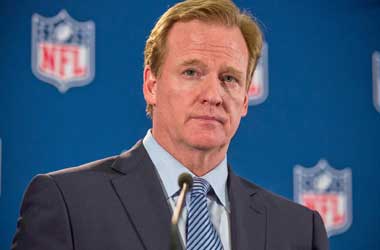 National Football League's (NFL) commissioner Roger Goodell has received plaudits for his uncharacteristic apology for the league's treatment of African-American players peacefully protesting against police brutality and racism.
However, a number of critics have also slammed Goodell for not naming Colin Kaepernick specifically.
In Goodell's statement regarding the protests that flared up due to George Floyd's death at the hands of law enforcement, the NFL commissioner did not once mention Kaepernick's name.
Kaepernick, a quarterback, was the first NFL player to protest by kneeling during the national anthem before games in 2016 to raise awareness for police violence against African-Americans. He has since been blackballed in the league.
Goodell is now backtracking by encouraging team owners to hire Kaepernick, which some league commentators feel is too little, too late.
First Take
In the three years since Kaepernick first started using his platform as an NFL quarterback to push for social change, both Goodell and other league officials have kept silence on the obvious blackballing he has received. Now that there is a push by NFL players to give Kaepernick a chance to reclaim a spot in the league, Goodell started indicating that he is in agreement as well.
According to the New Orleans Saints' Malcolm Jenkins, the NFL is fated to be on the wrong side of history unless they apologize to Kaepernick personally or help him overcome the blackballing team owners have given him. Other notable advocates for Kaepernick to play again include Carlos Hyde, Eric Kendricks, Drew Rosenhaus, Richard Sherman, Michael Bennett and Pete Caroll.
Caroll, who coaches the Seattle Seahawks, stated that he recently received a call from an unknown team who was asking about Kaepernick. In the last three years since Kaepernick's rise as an activist, only the Seahawks have brought him in for a visit.
In the days since this news, other teams have since emerged as potential landing spots for Kaepernick's return. These teams include the Baltimore Ravens, the Houston Texans, the Jacksonville Jaguars, the Kansas City Chiefs, and the Los Angeles Chargers.
Pressure Mounting for Goodell to Acknowledge Kaepernick
While Goodell has spoken out in favor of Kaepernick rejoining the league, his statement appeared to suggest that Kaepernick's lack of a contract was due to his unwillingness to play.
This is not the case as Kaepernick has kept up his professional training regimen waiting for a call from a team.