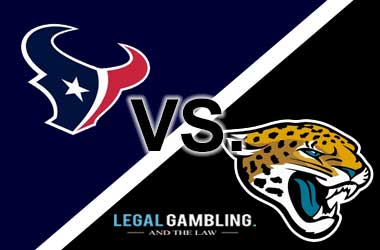 An AFC South rivalry kicks off Sunday as the Texans and Jags go head to head to break the first place tie atop the AFC South. The Texans lead the all time series 19-13, and had won 6 straight before dropping both against Jacksonville last season.
The Texans are coming off a 20-13 win against the Buffalo Bills last week, getting a lift from a late pick 6. In week 4, the Texans outlasted the Colts 37-34 in OT, and beat the Cowboys 19-16 in OT in week 5.
The Jags got walloped 40-7 last week against the Cowboys. They smoked the Jets 31-12 in week 4, and lost 30-14 to the Chiefs in week 5.
BetOnline currently have the Jags as 4.5 point favourites at home, with the O/U total set at 42.5.
Houston Texans
The Texans have won 3 straight, including 2 in overtime, and have pulled out gutsy win after gutsy win. Last week, it was a Nathan Peterman pick-6 that lifted them to a 20-13 win. Despite his box score numbers not being as otherworldly as last season, Deshaun Watson is actually playing better this season. Hes making better decisions with the football and giving his receivers more chances despite his offensive line being a trainwreck. At tackle, Julie'n Davenport and Martinas Rankin have combined to allow 59 total pressures, including 17 QB hits and 8 sacks. DeAndre Hopkins continues his ascension into elite WR consideration with 657 yards and 3 TDs on the season, and has forced 7 missed tackles after receptions.
Well, J.J. Watt is back to the utter dominance he displayed before his injury issues set in. Watt has 8 sacks and 26 pressures thus far this season, while Jadeveon Clowney has stepped up in the past few games and is becoming a more consistent threat. Their pass coverage still leaves a bit to be desired, and have been burnt for some big chunk plays, but have done a nice job forcing turnovers with 5 interceptions.
Injuries and Inactive Watch
CB Aaron Colvin (ankle) – out, RB D'Onta Foreman (Achilles) – out
Jacksonville Jaguars
The Bortles-Coaster is at another valley, with back to back poor performances. Over the last 2 weeks, Bortles has a 55% completion percentage, and is averaging 6.6 yards per attempt. Granted, he hasn't gotten much help from his receivers, who have 7 drops over that time span, but Bortles play has left a lot to be desired, and is clearly holding the Jacksonville offense back. The offense as a whole sputtered against Dallas, almost getting doubled up in time of possession, turning the ball over twice early in drives, and punting 6 times. T.J. Yeldon has still impressed this season, averaging 4.5 yards per carry and has rushed for just shy of 300 yards. Josh Walker and Jermey Parnell have struggled at tackle the last 2 weeks, combining for 25 pressures and 7 QB hits in that time.
After being such a dominant force a season ago, many are wondering how Jacksonville could give up 40 points to a Dallas team that was averaging just 14 PPG coming in. I'm baffled as well, but it was evident that Jacksonville had some coverage breakdowns, and were killed by letting Dak escape from the pocket. They got solid pressure up front, but couldn't finish sacks.
Injuries and Inactive Watch
RB Leonard Fournette (hamstring) – questionable, TE Niles Paul (knee)- doubtful, EDGE Calais Campbell (rib) – questionable
Predictions
Jacksonville might have the most talented us sports roster in the NFL, but they have possibly the worst QB of the 32, and that will haunt them. Bortles is capable of nice games where you see the potential that made him a top 5 pick, but then has others that make you wonder how he is a starting QB in the NFL. For Bortles to be successful, everything has to be perfect, and that is gonna be hard to do when J.J. Watt and Jadeveon Clowney are bearing down on him off the edge against the Jags' weak tackles.
Jacksonville's offense is not very creative, and defensive coordinators are starting to catch up, and Romeo Crennel should have a bead on what Jacksonville wants to do offensively.
On the other side of the ball, Houston needs to use Deshaun Watson like Dallas did with Dak last week, getting him some boot action and read option looks to utilize his legs. Houston's O line isn't good enough to hold up for any deep shots, and that's okay against the Jags secondary. Get the ball to the flats, use some short crossers and quick screens to take advantage of their playmakers and force the Jags defense to come up and make tackles.
We think Jacksonville gets another dud from Bortles before he starts to swing back in an upward direction. Houston's pass rush should be an issue and shut down Jacksonville's passing attack. We are taking Houston and the points, with a slight lean to the under here, although we think Jacksonville wins the game outright.
Final Pick: Houston (+4.5)