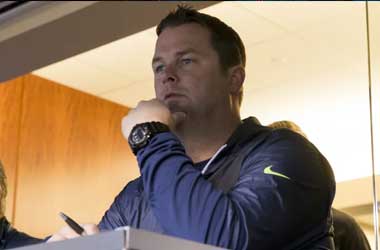 The Carolina Panthers put in a lot of effort in finding their new General Manager (GM) as they know the GM is going to play a key role in helping the Panthers position themselves to win the Super Bowl.
The Carolina Panthers announced that they have hired Scott Fitterer as their new GM and have given him a five year contract.
Fitterer was responsible for leading the Seattle Seahawks to a Super Bowl win in 2013 and the Panthers are hoping that he can recreate that magic with their NFL franchise.
The Panthers had a terrible season in 2020 under GM Marty Hurney.
The Panthers won 5 games and lost 11 games before the owners took a decision to sack Hurney and look for a new gm. An extensive search was carried out for the GM post and Scott Fitterer was initially not part of the recruitment process.
Panther Nation Podcast
The Panthers went on to interview a total of 15 candidates for the post. Some of the candidates included individuals with great track records. Two of those candidates were individuals who were already part of the Panthers. In the end, the Panthers shortlisted four candidates for the final round of interviews.
The four candidates were Scott Fitterer, Monti Ossenfort who is the VP of player personnel at the Tennessee Titans, Adam Peters who is the VP of player personnel at San Francisco 49ers and Ryan Poles who is Assistant Director of player personnel at the Kansas City Chiefs.
Scott Fitterer Right Man For The Job
David Tepper, who owns the Panthers said they carried out detailed interviews with all four candidates and decided that Fitterer was the right man to lead the Panthers. One of the key features that Tepper was looking for in his new GM was an individual who placed a big emphasis on data.
The 47 year old Fitterer relies heavily on data to plan and make strategic decisions. Fitterer will have to work closely with head coach Matt Rhule to scout for talent and make key decisions on the Carolina Panthers 53 man roster.
Fitterer has extensive experience in the NFL. He was fired hired by the Seattle in 2001 and since then has held numerous positions. During the last four years, Fitterer has interviewed for a number of GM roles. This is the first time that he will step into that role with the Panthers.