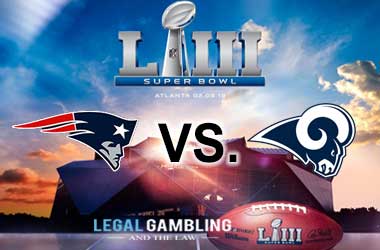 The biggest sporting event in the United States is set to take place on Feb 3 as the New England Patriots take on the Los Angeles Rams in Super Bowl LIII. The game will take place at the Mercedes-Benz Stadium in Atlanta, Georgia.
There will be a host of stars and celebrities in attendance and the massive crowds filling the stadium will be treated to performances from Big Boi, Maroon 5 and Travis Scott.
The Patriots did not play at their best this season and received a lot of negative attention in the media during the past few months. Their best player Tom Brady took it all in his stride and is having the last laugh by making it to another Super Bowl Sunday – his 9th appearance.
When betting odds opened, the Patriots were the underdogs for just a short while before the surge of bets quickly turned the tide and now have them at a -2.5 with the Rams at a +2.5. It is easy to see why bettors are going with the Patriots as they have immense experience under their belts when compared with the Rams.
ESPN
The Patriots have been to Super Bowl Sunday a number of times. They have as many as 38 players who have the experience of playing under the bright lights and the biggest stage of them all. Tom Brady has played 8 Super Bowl Sundays and won 5 Lombardi Trophy's. Compare that to the Rams who have just four players in their team with Super Bowl experience.
Prop Bets Gaining A Lot Of Attention
Prop bets usually don't get a lot of attention during regular NFL games but things start to heat up as Super Bowl Sunday approaches. Now that sports betting is legal in a number of states, betting operators have confirmed that their prop bets are witnessing a lot of action. There's a lot of crazy prop betting action going on such as which song Adam Levine will perform initially or what kind of outfit he is going to show up in.
Dave Mason from BetOnline said prop bets like whether the game will go into overtime, how many injuries will occur in the first half and whether the winning coin toss will show up as heads is getting a lot of attention.