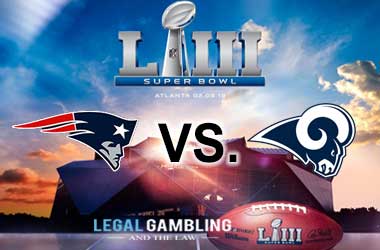 All roads lead to this, Super Bowl Sunday is a week from Sunday, and the Patriots and Rams will be geared up for a good one. The Patriots lead the all time series 8-5, and have won 5 straight head to head against the Rams.
The Patriots are fresh off their overtime 37-31 victory in the AFC Championship over the Chiefs. In week 17, they beat the Jets 41-28, had a first round bye during the Wild Card round, and defeated the Chargers 41-28 in the Divisional round.
The Rams are coming off a 26-23 overtime victory themselves in the NFC Championship over the Saints. In week 17, they beat the 49ers 48-32, had a first round bye during the Wild Card round, and defeated the Cowboys 30-22 in the Divisional round.
BetOnline has the Patriots as 3 point favourites with an O/U of 57.
KYYC edits
New England Patriots
(13-5 overall, 4-5 on the road)
The Patriots offense has been a grinder these past few weeks, with an exceptional balance of run and pass. On the year, including playoffs Tom Brady has thrown for 5046 yards, 31 TDs, and 13 INTs while completing 66.5% of his passes and averaging 7.6 YPA. James White has been a dynamic threat out of the backfield, catching 106 balls for 897 yards and 7 TDs, while Julian Edelman has re-established himself as Tom Brady's go to guy with 90 catches for 1097 yards and 6 TDs.
Rob Gronkowski (54/786/3), Chris Hogan (43/590/3) and Phillip Dorsett (37/360/5) are threats in the receiving game as well. On the ground, Sony Michel is hitting his stride at the right time, and on the year has rushed 262 times for 1173 yards and 11 TDs, while James White (100/448/5) and Rex Burkhead (73/239/3) rotate in as well.
Through 2 playoff games, the Pats are giving up 29.5 PPG. They are allowing 282.5 passing yards per game and have allowed 6 passing TDs in 2 games. Their pass rush has come to life, tallying 6 sacks in 2 games. The Patriots carried their run defense with them into the playoffs, allowing just 30 yards per game (2.7 YPA) on the ground and have allowed 2 TDs on the ground. The Patriots have forced 2 turnovers in the postseason (1 INT, 1 FR), but have also thrown 2 INTs.
Injury and Inactive Watch
None
Los Angeles Rams
(15-3 overall, 7-2 on the road)
The Rams offense has regained its form, with Jared Goff coming off one of the best games of his career. On the year Goff has thrown for 5171 yards, 33 TDs, and 13 INTs while completing 64.2% of his passes and averaging 8.2 YPA. Robert Woods is the Rams top pass catcher, tallying 98 catches for 1321 yards and 6 TDs this season while Brandin Cooks continues his strong career with 91 catches for 1376 yards and 5 TDs. Todd Gurley (62/586/4), Gerald Everett (35/370/3), Josh Reynolds (34/495/5) and Tyler Higbee (30/347/3) are all featured as well.
On the ground, the Rams new 2-headed backfield was stifled last game out, but is still very capable with Todd Gurley and C.J. Anderson. Gurley (276/1376/19) is well established as one of the leagues best runners, but Anderson (82/466/4) has had a historic 4 game stretch since joining the Rams, and both will factor in majorly in the Super Bowl.
The Rams defense has stepped up, allowing just 22.5 PPG in their 2 playoff games. They are allowing 250 yards per game through the air, and have allowed 3 passing TDs. The Rams pass rush has slowed down its production a bit, tallying just 3 sacks in their 2 games. Their much maligned run defense has shown out, allowing just 49 yards per game (2.3 YPA) in their 2 playoff matchups, and have given up 2 TDs on the ground. The Rams have forced just 1 turnover (1 INT) this postseason, but have forced 2 fumbles, and have turned the ball over just once (1 INT)
Injury and Inactive Watch
RB C.J. Anderson (illness) – questionable, expected to play, K Greg Zuerlein (left foot) – questionable, expected to play
Predictions
The Rams Super Bowl appearance is mired in controversy, but best believe that won't make them step down to the mighty Patriots. The Patriots offense does pose some interesting conundrums for the Rams defense however. Against the Saints, they doubled Michael Thomas and chipped Alvin Kamara on his way out of the backfield, but against the Patriots who do you take away? If you take away Edelman/White, Gronk could kill you, if you take away Gronk/White, Edelman will eat over the middle of the field. Their offensive line is also playing at an unprecedented level, and if the Rams cant get pressure up front they are screwed.
The Rams offense poses the same issues for the Pats. Belichick likes to take away his opponents biggest threats, but who exactly is that for the Rams? Robert Woods? Brandin Cooks? A clearly less than 100% Todd Gurley? The Rams offense is designed purely to not run through one player, but Belichick is enough of a mastermind to have a plan for all (most) of them. The Rams run game shouldn't be a factor against the Pats big bodies up front, so this one is all on Jared Goff, and on the world's biggest stage it is safe to be skeptical. The Rams will make this an entertaining matchup, but as for now it's safe to say the Pats walk away with their 6th Super Bowl.
Final Pick: Patriots (-3)