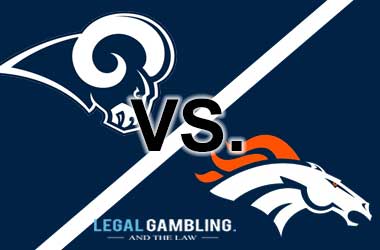 The undefeated Rams travel to the Mile High to take on the Broncos Sunday afternoon. The Rams lead the all time series 8-5, and the Rams have won the last 3 matchups. The Rams defeated division rival Seattle 33-31 last week, coming up with a big 4th down conversion to seal it. The Rams defeated the Chargers 35-23 in week 3, and won a shootout with the Vikings in week 4 38-31.
The Broncos are coming off a 34-16 drubbing at the hands of the New York Jets last weekend. The Broncos lost 27-14 to the Ravens in week 3, and lost 27-23 to the Chiefs in week 4.
Las Vegas has the Rams as 7 point favourites on the road, with an O/U set at 52.5.
Los Angeles Rams
The Rams had their first real scare last weekend, as the Seahawks appeared to have the Rams on the ropes until a 4th quarter Todd Gurley touchdown followed by a huge defensive stop. With the ball on his own 42 yard line, Sean McVay opted to go for it on 4th down and 1, effectively sealing the game.
Jared Goff's stat line may not impress, but he really played pretty well. Goff went 23/32 for 321 yards, a TD and 2 INTs, with 1 INT debatably coming on a noncalled pass interference, and the other coming on a Hail Mary at the end of the first half. Goff lead scoring drives of 64, 71, and 74 yards in the second half without his top 2 targets in Cooper Kupp and Brandin Cooks.
Kupp still tallied 6-90-1 in the first half, and Robert Woods stepped up with 5 catches for 92 yards and a 56 yard run. Todd Gurley left a lot of yards on the field, rushing 22 times for 77 yards, but found the endzone 3 times. The offensive line continues to be dominant, failing to allow a sack, and allowing just 5 pressures.
The defense was non existent for 3 quarters, but stepped up when it needed to. Aaron Donald was held to just 1 pressure (1 sack) which may be a career low, and the Rams tallied just 8 as a team. Marcus Peters was an absolute liability in coverage, getting caught peeking in the backfield multiple times and getting burnt for 3 touchdowns.
Injuries and Inactive Watch
WR Brandin Cooks (concussion) – questionable, WR Cooper Kupp (concussion) – questionable
Denver Broncos
In what was essentially a pick'em game, the Broncos laid an egg. They won the turnover battle and the time of possession battle, but were forced to punt 8 times. Case Keenum struggled to throw ball downfield, missing in both the intermediate and deep sections of the field. Keenum went 35/51, dinking and dunking his way to 377 yards, 2 TDs, and an INT. Demaryius Thomas and Emmanuel Sanders were back to their old ways, combining for 14 catches, 177 yards and a TD.
Phillip Lindsay and Royce Freeman continue to be a dynamic rookie duo, carrying the ball 5 times for 31 yards, and 12 times for 61 yards, respectively. After playing incredibly well through 4 weeks, Connor McGovern had his first bad outing, allowing 6 pressures and a sack, while Billy Turner was beaten twice for sacks.
The defense really struggled up front, allowing a career day to Isaiah Crowell (15 carries, 219 yards). They struggled to generate pressure against a shaky Jets OL, totaling just 9 pressures, led by Derek Wolfe, Von Miller, and Domata Peko (2 a piece). Bradley Roby had a really bad day in coverage, allowing 3 catches for 125 yards and 2 TDs.
Injuries and Inactive Watch
CB Adam Jones (hamstring) – questionable, OT Jared Veldheer (knee) – questionable, OT Garrett Boles (ankle) – questionable
Predictions
We don't know what to make of this Broncos team right now, and the Rams defense is very shaky right now. The Rams offense is the only constant in this game, and you can count on them for another 30+ point performance. The Broncos have been torched on big plays this season (last week especially) and that plays right into what the Rams want to do.
Even if LA is down a receiver or 2, Jared Goff showed last week he isn't afraid to spread the ball around, and still has possibly the best checkdown threat in American Football in Todd Gurley. The Denver defense just doesn't have the playmakers to turn the ball over, and the pass rush faces a tough task against a rock solid LA line.
Denver has to control the ball if they want to get a W (or cover), and not abandon the run. Seattle showed last week that the Rams can be exploited on the ground, and they have to keep this close if they want to keep the game script in a positive direction. I think going into Mile High and asking the Rams (or any team for that matter) to cover a 7 point spread is a tough ask, but I do like the Over here.
We think Denver finds success with their young stable of backs, much like the Seahawks last week, and Case Keenum can get some help from his receivers enough to keep this close and turn it into a bit of a shootout.
Final Pick: Over 52.5