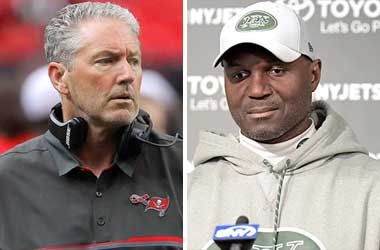 The New York Jets and the Tampa Bay Buccaneers have had a very poor NFL season and did not make the playoffs. The head coach always comes under pressure when a major league team fails to perform, which is why it does not come entirely as a surprise that both the Jets and Tampa Bay have decided to sack their head coaches.
Tampa Bay lost their match against the Falcons on Sunday going down 34-32 to take their record this season to 5-11. The team was clearly not going in the right direction and the owners decided that they needed to replace Dirk Koetter and find someone new to turn things around.
In a statement, Joel Glazer, owner of Tampa Bay said
We sincerely appreciate the hard work and commitment shown by Dirk over the past several years. Working with Dirk has been a pleasure and we wish him and his family all the best in the future. Our search for a new head coach will begin immediately and will be conducted by General Manager Jason Licht
Head-hunting firm Korn-Ferry has been retained by Tampa Bay to spearhead the search for a new head coach along with Licht. Korn-Ferry has provided coaching recruitment services to a number of NFL franchises in the recent past including the Kansas City Chiefs, Jacksonville Jaguars and Houston Texans.
Jets Give Todd Bowles His Walking Papers
Todd Bowles was relieved of his responsibilities of being the head coach to the New York Jets. The Jets have had a terrible run under Bowles's leadership and it was very obvious that he was going to get his walking papers sooner or later. Bowles had a contract with the Jets till 2020 but knew that it was highly unlikely that he would continue given the results.
The Jets have a 4-12 record this season and an overall record of 24-40 during Bowles tenure. Things went south in recent months as the Jets registered 21 losses in the last 27 matches. Many expected the Jets to fire both Bowles and Mike Maccagnan who is the general manager as they were both hired in 2015. However, Maccagnan has been retained and will now work closely with chief executive Christopher Johnson to find a new head coach.
The New York Jets will most likely be in the market for a head coach who is keen on adopting an offensive strategy.