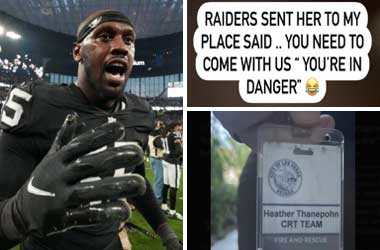 Summary:
Top NFL star Chandler Jones isn't very happy with his team the Las Vegas Raiders
Jones posted and later deleted a number of revealing posts on Instagram
Raiders fans are unsure if he will play in the team's opening game on Sep 10
NFL star Chandler Jones is an integral part of the Las Vegas Raiders team and adds loads of experience to their defensive end.
Jones who is a brother to UFC heavyweight champion Jon Jones signed a 3 year contract with the Raiders for $51 million as a free agent and has completed one year.
Jones Posts and Deletes Revealing Info
All is not well between Chandler Jones and the Las Vegas Raiders management. Jones has used social media this week to give his fans some idea of what is taking place between him and the Raiders management.
Jones posted a picture on Instagram and said that the Raiders sent a crisis response team (CRT) to his house and gave more info on what took place before deleting the post. This is what he wrote in multiple posts combined:
Raiders sent her to my place said..you need to come with us you're in danger! They had me outside in my draws lol…naked! That lady was rude, then I got to showing her some of them text, and then she switched up. Buddy from the Raiders tried to give me the look, like 'don't say anything'.
A follow-up from Jones: https://t.co/53BycjEAEk pic.twitter.com/9xvoXbbG4N

— Tashan Reed (@tashanreed) September 7, 2023
Jones went on to say in an earlier post that he understood why players took to social media to express their frustration. He said initially he frowned upon the idea but social media was their only outlet to share what was really going on. Jones has also said that he wasn't very keen on playing for the Raiders going forward but we are not sure if he was speaking out of frustration or if he really meant it!
More from Chandler Jones IG pic.twitter.com/eS5NEMF4E3

— Vic Tafur (@VicTafur) September 7, 2023
Jones was allegedly locked out of the Raider's training facility and is unlikely to play the season opener on 10 Sep against the Denver Broncos. Jones said that if he did not play on Sunday, he would reveal information against coach Josh McDaniels.
Chandler Jones on Instagram definitely has me trippin right now. pic.twitter.com/QsFg1ZZK1Y

— RC (@RaiderCody) September 5, 2023
McDaniels Will Not Discuss Jones Situation With Media
When the media asked McDaniels to comment on what was going on with Chandler Jones, he put it down to a personal situation and said he would not disclose anything with the media as it was a private matter.