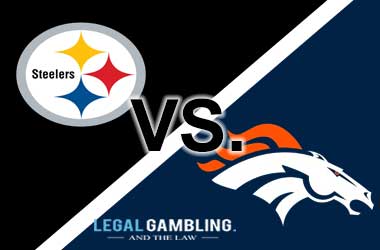 An AFC matchup highlights the afternoon slate as the Steelers look to continue their hot play against the Denver Broncos. The Broncos lead the all time series 14-8-1, and the two have split their previous 2 matchups head to head.
The Steelers are coming off a 20-16 win over Jacksonville thanks to some late game Big Ben heroics. In week 9 they beat the Ravens 23-16, and they throttled the Panthers 52-21 in week 10.
The Broncos have been very up and down to this point, winning last week 23-22 over the Chargers on a last second field goal. In week 8, they lost 23-30 to the Chiefs, lost 19-17 to the Texans in week 9, and had a bye in week 10.
GTBets has the Steelers as 3 point favourites on the road, with an O/U of 47.
Pittsburgh Steelers
Pittsburgh is looking like a top 2 AFC team right now. They have won 6 straight now, and look to make it 7. Ben Roethlisberger isn't necessarily playing the beset football of his career, but his play in crunch time has been phenomenal. Ben has thrown for 3202 yards on 65.1% completion at 7.7 YPA. He owns a 23 to 10 TD-INT ratio, 6 of which have come in 2 games against the Browns (week 1) and the Jaguars (last week). Antonio Brown and JuJu Smith-Schuster may very well be the best receiving duo in the NFL. Brown has caught 62 balls for 807 yards and 11 TDs, while JuJu has 84 catches for 866 yards and 3 TDs. James Conner continues to be a force out of the backfield, coupling his 174 carries, 797 yards, 10 TDs on the ground with 45 receptions, 411 yards, 1 TD through the air.
After a slow start, the Steelers defense now ranks 10th in points allowed at 22.5 PPG. They are also in the top 10 in pass defense, allowing just 227.2 yards per game and 19 TDs on the year, and lead the league in sacks with 37. They are just inside the top 10 in run defense, allowing 99.6 yards per game and 7 TDs on the ground. Pittsburgh has forced just 12 turnovers on the year, and own a -3 turnover differential.
Injuries and Inactive Watch
DT Stephon Tuitt (elbow) – questionable, T Marcus Gilbert (knee) – questionable
Denver Broncos
The Broncos offense has appeared anemic at times, but has shown flashes of being a solid unit predicated on play action and vertical shots such as last week against the Chargers. Case Keenum has thrown for 2605 yards, 11 TDs, and 10 INTs on the year, completing 63.3% of his passes for 7.2 YPA. Emmanuel Sanders continues to threaten defenses, tallying 60 catches for 763 yards and 3 TDs on the year, while Courtland Sutton has emerged as a downfield threat, catching 23 balls for 459 yards and 2 TDs. The rookie duo of Phillip Lindsay and Royce Freeman in the backfield has proven to be potent, as they each have 5 rushing TDs and are averaging over 4 YPC (5.5 and 4.3, respectively). Lindsay has rushed 121 times for 670 yards and 5 scores while Freeman has 78 carries for 332 yards and 5 TDs.
Denver's defense has been one of their only constants, allowing 23.5 PPG. They are just below average in defending the pass, allowing 247.6 yards per game and 18 TDs, and are top 10 in sacks with 31. They rank near the bottom of the league in run defense, allowing 127.9 yards per game and 8 TDs on the ground. Denver has forced 14 turnovers on the year, but own just a +2 turnover differential.
Injuries and Inactive Watch
CB Bradley Roby (concussion) – questionable, WR DaeSean Hamilton (knee) – questionable, LB Brandon Marshall (knee) – questionable
Predictions
Denver has been one of the more unpredictable teams in the league, while the Steelers have really found their groove. Big Ben has shown that he isn't afraid to stand in tough and sling it, even against the toughest defenses, and while the Broncos pass rush can instill fear, their coverage isn't all that inspiring. Whether it is AB, JuJu, James Conner, or Vance McDonald he will find a matchup he likes at any given point. The Steelers should also find success on the ground, and James Conner could bust a few long ones.
The Broncos offense is centered in the run game/play action passing, and the Steelers will make both tough. They are very tough up front and should overwhelm the Broncos O line, making it hard to find running room for Phillip Lindsay. They will play the run on the way to the passer in play action, and Case Keenum has a tendency to hold the ball too long looking to make the big play. The Steelers pass rush will feast on this, while their secondary can play off of them and look to force turnovers. Playing in the Mile High is always tough, but the Broncos have been one of the more inconsistent teams in the league and will be coming down from an emotional win over their division rival Chargers. Take the Steelers in this one.
Final Pick: Steelers (-3)