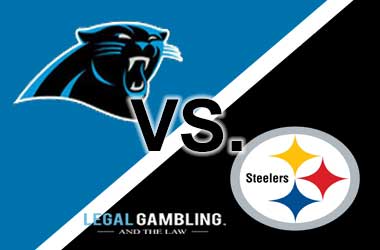 Two teams seeking a potential playoff berth face off Thursday in what looks to be an interesting matchup. The Steelers lead the all time series 5-1, and have won 5 straight. The Panthers withstood a comeback last week to win 42-28 against the Buccaneers. In week 7, the Panthers beat the Eagles 21-17, and beat the Ravens 36-21 in week 8.
The Steelers defeated the Ravens 23-16 last week in an impressive win. In week 6, the Steelers defeated the Bengals 28-21, had a bye in week 7, and handled the Browns 33-18 in week 8.
BetOnline have the look ahead line as (-5.5) in favour of the Steelers.
Carolina Panthers
(6-2 overall, 1-2 on the road)
The Panthers offense is one of the more dynamic units in the league in the multiple ways they can attack. They have a bit of a college element with the way they use wide receivers in orbit/jet motion and utilize the quarterback in the running game. Cam Newton has 1893 yards passing on the season with 15 TDs and 4 INTs. Newton has also added 73 carries for 342 yards and 4 TDs. Christian McCaffrey is a swiss army knife on offense, with 109 rushing attempts and 49 receptions, both team leading.
McCaffrey has 502 yards and 3 TDs on the ground, along with 378 yards receiving and 2 TDs. Devin Funchess has 36 catches for 445 yards and 3 TDs, while D.J. Moore and Curtis Samuel are both threats in the open field in the run and pass game as well. Carolina's run defense is ranked 7th in the league in terms of yards per game at 94.1, and have given up 5 TDs on the ground. They are ranked 18th in passing defense allowing 250.6 yards per game, and have allowed 17 TDs. Carolina's defense has 11 interceptions and 4 fumbles recovered, and rank middle of the pack with 21 sacks.
Injuries and Inactive Watch
WR Torrey Smith (knee) – missed Sunday. Questionable, S Eric Reid (shoulder) – questionable
Pittsburgh Steelers
(5-2-1 overall, 2-2 at home)
The Steelers continue to get better each week on both sides of the ball, and have shown the ability to win in different ways. Ben Roethlisberger is 4th in the league with 2560 yards, and has thrown 16 TDs and 7 INTs. James Conner has proven to be a dual threat back, rushing 151 times for 706 yards and 9 TDs. Conner also has 38 catches for 379 yards and a TD. Antonio Brown leads the league in receiving TDs with 9, and also has 51 catches for 594 yards as he and Big Ben get back on the same page. JuJu Smith-Schuster is a fantastic #2 option, catching 53 balls for 672 yards and nabbing 2 TDs.
Pittsburgh's defense has vastly improved from the beginning of the season, and now rank 22nd in passing defense at 258 yards allowed per game, and have given up 17 TDs. They rank 6th in rushing defense with 90.2 yards allowed per game, and have allowed 5 TDs on the ground. The Steelers rank near the bottom of the league in interceptions with just 5, but have recovered 4 fumbles and rank 3rd in sacks with 26.
Injuries and Inactive Watch
T Marcus Gilbert (knee) – missed Sunday. Questionable
Predictions
This should be a fun one featuring teams with differing philosophies. The Panthers want to beat you horizontally with their speed, while the Steelers want to ground and pound and take shots down the field. The Panthers offense has looked very good the past few weeks, and should give the Steelers fits, especially McCaffrey out of the backfield and Greg Olsen down the seam. The Steelers struggled with the lone scrambling quarterback they faced earlier this year (Tyrod Taylor, 77 yards and a TD) so Cam Newton could find room to run as well.
Pittsburgh likes to jump out early and keep you off balance with their run game, which will not come easy against the Panthers. The Panthers coverage has really improved this year as opposed to years past, and could force a turnover or 2 off Big Ben, as well as make life hard for AB and JuJu with man coverage. We think the Steelers win at home on a short week, but we are going to take the 5.5 and roll with Cam to make some big plays down the stretch to keep this close.
Final Pick: Panthers (+5.5)