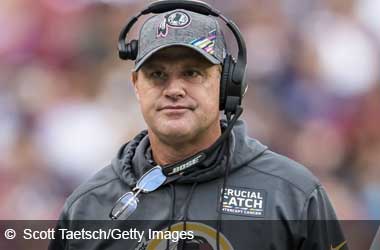 When you are the head coach of an NFL team and get summoned by the team owners, it is usually going to be because they want to congratulate you for doing a stellar job or they want to give you the boot because you have done a poor job.
When Washington Redskins head coach Jay Gruden got the call to meet with team owners on over the weekend, he knew exactly what was going to happen. The Redskins have had a terrible start to the NFL season and have lost 5 consecutive games.
Gruden has spent the last 5.5 years with the Redskins and has done a reasonable job till the start of this season. He decided to pack up all his stuff before he met with team owner Daniel Snyder and President Bruce Allen as he knew what was on the cards.
The meeting was rather short as Gruden was told his services were no longer required and they did not have to list out their reasons as he knew perfectly well that it was time to say goodbye. Gruden did not mince words when he spoke to the press and said that he was disappointed because he could not push the Redskins to greater heights.
WUSA9
Under his leadership, the Redskins have a 35-49-1 record which is modest to say the least. The 5 consecutive losses to start the season sealed the deal as far as his future with the Redskins was considered.
Bill Callahan Appointed Interim Coach
The Redskins decided to name Bill Callahan who was the offensive line coach as the interim head coach. Bill Callahan said he thought long and hard about taking the head coach job and eventually decided it was the right thing for him to do going forward.
President Bruce Allen made a telling statement when he said that Callahan will put in place new programs that will enforce both discipline and execution.
That statement did not go down well with Jay Gruden as it implied that under his leadership there wasn't enough discipline and execution. Gruden said he wasn't bitter at being fired but wanted to be clear that he was a hard worker who lived and breathed the Redskins the past 5.5 years.
There will be some who disagree with Gruden as he had a reputation of being easy on the players and a coach who never stayed past midnight unlike most of the other NFL coaches.