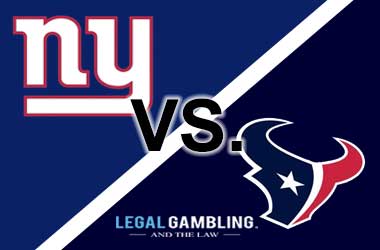 A cross conference game Sunday matches up two MFL teams looking to get into the win column in week 3. Each has been competitive in the first two weeks, falling short in each game by 7 points or fewer, but are looking to improve.
The Giants lost Sunday night against the Cowboys 20-13, failing to cover ATS, and putting up less than 16 points for the second week in a row. The defense has done its job, allowing 20 points in each of the first 2 games.
The Texans have covered in their first two games, losing by a combined 10 points. Quarterback Deshaun Watson has done everything in his power to keep the Texans in these games, but the defense has not pulled its weight, allowing big scores down the
stretch.
Oddsmakers have the Texans favoured by 3.5 at home, with OddsShark reporting the consensus Over/Under is at 41.
New York Giants
The Giants were impressive in week 1 against the Jaguars who boast the most talented defense in the league. Sunday night in Dallas, it was the complete opposite. The defense looked lost, and the offense struggled to move the ball. Eli Manning was under constant pressure, going down for a sack 6 times, as the Giants tackles were outmatched against the Cowboys edge rushers. When he had receivers open, he missed them completely or misfired on his throws, resulting in costly incompletions.
Rookie phenom Saquon Barkley was held in check on the ground, rushing 11 times for 28 yards. However, Barkley showed his pass catching prowess, catching 14 balls on 16 targets for 80 yards. After a huge week 1, Odell Beckham Jr. was mostly a non factor, putting up 4 catches for 51 yards on 9 targets as Eli repeatedly tried to force him the ball.
After mostly stuffing the Jaguars run in week 1, the Giants allowed 78 yards to Zeke Elliott and 45 to Dak Prescott. The Giants lacked a pass rush all game, getting little push and failing to tally a sack. The secondary played well, and the Cowboys anemic passing game definitely helped, but Janoris Jenkins was still burnt on a 64 yard bomb to Tavon Austin,
Injuries and Inactive Watch
C Jon Halapio (leg, undisclosed) – carted off Sunday night, CB Eli Apple (groin)- left game Sunday night, something to keep an eye on
Houston Texans
After playing the Patriots tough in week 1, Houston led the Titans 17-14 midway through the 4th quarter. The Texans subsequently allowed 2 field goals to tie and take the lead, leaving the Texans the ball with a little over a minute to go. Deshaun Watson took Houston 54 yards in 5 plays, and ran out of time at the 21 yard line before they could set up for what would have been a game tying field goal.
Watson was under duress the whole game, running for his life and getting sacked 4 times behind the Texans suspect offensive line. Despite his lines struggles, he still completed 22 of 32 passes for 310 yards and 2 touchdowns. Deep threat Will Fuller V and go-to receiver DeAndre Hopkins each went over the century mark, posting lines of 8/113/1 and 6/110/1, respectively.
Watson also exhibited his playmaking ability on the ground, running for 44 yards on 5 carries. His running ability is just a bonus to go along with Lamar Miller and Alfred Blue's work on the ground, who posted 104 yards on 21 carries combined.
Defensively, the Texans pass rush faced a tough test up front against a strong Titans O-line. They were without stud edge rusher Jadeveon Clowney, but J.J. Watt and Whitney Mercilus still applied a solid amount of pressure on Blaine Gabbert, even though neither recorded a sack.
Injuries and Inactive Watch
EDGE Jadeveon Clowney (elbow) – DNP Sunday, something to keep an eye on
Matchups to Watch
Giants OTs vs Texans EDGE
Giants RB Saquon Barkley vs Texans LBs
Texans OL vs Giants Pass Rush
Texans WRs DeAndre Hopkins and Will Fuller V vs Giants CBs
Predictions
This game may end up being closer than we think, but we really don't like this matchup for the Giants. They were torched on the ground by a mobile quarterback last week, and Deshaun Watson is twice the passer Dak Prescott is. The last 2 weeks, Watson has been under constant pressure, but the Giants have shown that they are unable to get to the quarterback with any consistency.
The only trumps that the Giants have are Saquon Barkley and Odell Beckham Jr. Saquon is a boom or bust runner, and may break off a long run or 2, but the Texans defense front should have him clamped down in the run game, and Houston's linebackers are talented and fast enough to keep up with Barkley in the pass game.
OBJ can be a playmaker against a shoddy cornerback group in Houston, but Eli will struggle to get him the ball when he has pass rushers like Watt, Clowney, and Mercilus in his face all game. We are hopping on this one early, expecting the late money to come in on Houston but, I'll take the Texans to cover at home, and get in the win column Sunday.
Final Pick: Houston (-3.5)