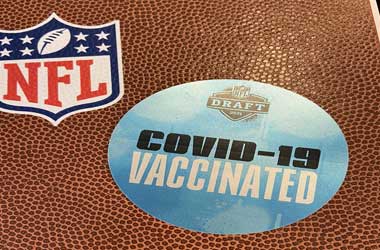 The NFL is set to kick of its new season on September 9, 2021 and there are lots of changes coming to the league in light of COVID-19.
The NFL managed to run a successful season in 2020 but there were a few disruptions when players tested positive and games had to be postponed.
NFL Commissioner Roger Goodell is determined to do everything possible within his power to ensure that the new season can run as smooth as possible.
The Commissioner sent out a memo to NFL teams and players on July 22 informing them of a number of changes with regards to COVID-19 vaccinations and potential outbreaks.
The NFL made it clear that it is not forcing players directly to get themselves vaccinated but has imposed a number of new rules that makes it difficult for players to not get vaccinated and continue to play freely in the NFL.
CBS Sports HQ
The NFL said that as of July 22 over 75 percent of players had been partially vaccinated and more than 50 percent of the NFL teams reported than 80 percent of their players were vaccinated. The NFL is looking to push these rates higher as Commissioner Goodell believes that vaccination is the best way to prevent the outbreak of COVID in the NFL.
The overall implication of the new changes targets unvaccinated players and threatens them indirectly with consequences. If a COVID-19 outbreak occurs in the NFL and unvaccinated players are involved, the NFL franchise could have to forfeit the game. This will occur when the NFL has to postpone the game due to the outbreak and cannot find a suitable date to reschedule.
The game will not only be forfeited but players from both teams will not receive their cheques. The NFL team that had the outbreak will also be financially responsible for paying the NFL any financial losses it occurred.
NFL Players Reconsider Future
A number of NFL players who are against vaccination lashed out at the new NFL rules and took to social media to voice both their disapproval and say they were uncertain about playing in the NFL. The players did not want their stance on non-vaccination to impact their NFL teams or their fellow players.
Leonard Fournette from Tampa Bay and Deandre Hopkins from the Arizona Cardinals posted on social media but soon deleted their tweets. As of now, it does not look like the NFL will change its stance on the new rules.
New NFL COVID policy has DeAndre Hopkins questioning his future 😳 pic.twitter.com/UNTk4YNG1A

— PFF (@PFF) July 22, 2021