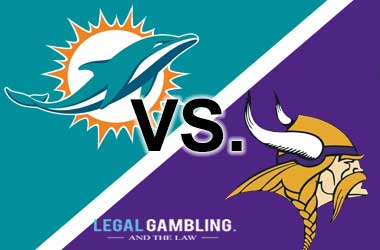 A cross conference matchup between 2 teams chasing the wild card in their respective conferences.
The Dolphins defeated the Patriots 34-33 last week on a last second lateral play. In week 12, they lost 27-24 to the Colts, and beat the Bills 21-17 in week 13.
Minnesota lost 21-7 to the Seahawks on Monday night. In week 12, they beat the Packers 24-17, and lost 24-10 to the Patriots in week 13.
Intertops has the Vikings as 7 point favourites with an O/U of 44.5.
Miami Dolphins
Fresh off the "Miami Miracle" the Dolphins are firmly in the AFC Playoff hunt, just a half game out of the #6 seed due to tiebreaking procedures. While Ryan Tannehill hasn't been great, he is certainly a big step up from Brock Osweiler. Tannehill has thrown for 1578 yards, 16 TDs, and 6 INTs on the year while completing 67% of his passes and averaging 8 YPA. Danny Amendola (49/479/1), Kenyan Drake (41/366/5) and Kenny Stills (32/504/6) have been the only constants in their pass game, while DeVante Parker (22/296/1) is beginning to utilize his potential. Frank Gore and Kenyan Drake have formed a potent duo in the backfield. Gore has rushed for 708 yards on 151 carries while Drake has rushed 102 times for 463 yards and 4 TDs.
The Dolphins scoring defense ranks near the bottom of the league, allowing 25.6 PPG. Their pass defense ranks in the bottom quarter as well, allowing 261.6 yards per game and 26 TDs, and rank 2nd to last in sacks with 22. Their run D ranks near the bottom of the league with 139.5 yards per game and 10 TDs allowed on the ground. Miami has forced 25 turnovers on the year, and own a +8 turnover differential.
Injuries and Inactive Watch
QB Ryan Tannehill (ankle) – questionable, CB Xavien Howard (knee) – questionable
Minnesota Vikings
The Vikings are clinging to the 6th seed in the NFC, but have little room for leeway with 3 teams just a half game back. Their offense may be in a bit of flux after the firing of offensive coordinator John DeFelippo. Kirk Cousins has thrown for 3698 yards, 24 TDs, and 9 INTs on the year while completing 70.6% of his passes and averaging 7.1 YPA. The duo of Stefon Diggs and Adam Thielen continues to be dominant. Diggs has caught 88 balls for 915 yards and 6 TDs while Thielen has 1236 yards and 9 TDs on 103 catches. The Vikings run game has not been very effective this season, but they are making an attempt to transition from Latavius Murray (114/470/5) to Dalvin Cook (87/367/0).
The Vikings scoring defense ranks just outside the top 10, giving up 22.4 PPG. Their pass defense ranks in the top 5, allowing 215.6 yards per game and 15 TDs, and rank top 10 in sacks with 38. The Vikes run D is above average, allowing 108 yards per game and 9 TDs on the ground. The Vikings have forced 20 turnovers, but own a turnover differential of just +1.
Injuries and Inactive Watch
CB Trae Waynes (concussion) – questionable, TE David Morgan (knee) – questionable
Predictions
It is a tough ask for the Dolphins to go on the road and beat a solid Vikings team to remain in the playoff hunt. For the most part, Adam Gase has done a nice job of scheming up throws for Tannehill this season, and they are going to need his best this week. The Dolphins also need to have a better plan for Kenyan Drake, as he has demonstrated his gamebreaking ability multiple times this season. The Vikings will definitely be able to generate pressure up front, so Tannehill needs to utilize his legs or get the ball out quick.
Kirk Cousins has put up some excellent numbers this year, but the Vikings offense lacked creativity under DeFelippo. It is unknown what they will look like with Kevin Stefanski calling plays, but a bottom tier offensive line makes it hard to do anything offensively. While the Dolphins don't have a lot of size or skill up front, they should still be able to generate pressure and possibly force a turnover or 2. With both teams playing with a real sense of urgency, and the Vikings question marks as well as their inability to play with any consistency, the Dolphins are the right side here.
Final Pick: Dolphins (+7)