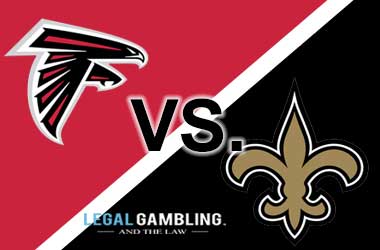 Thanksgiving night features an NFC South rivalry both with high-powered offenses. The Falcons lead the all time series 51-47, but the Saints have won the last 2 matchups.
The Falcons are coming off a 22-19 loss to the Cowboys on a last second field goal. In week 9, they beat the Redskins 38-14, and lost to the Browns 28-16 in week 10.
The Saints are coming off a 48-7 waxing of the Eagles. In week 9, the Saints beat the Rams 45-35, and beat the Bengals 51-14 in week 10.
Bovada have the Saints as 10 point favourites, and an O/U has not been posted yet.
Atlanta Falcons
The Falcons are looking up at the NFC playoff picture after opening the season as one of the favourites. Injuries and poor secondary play have hamstrung this team way below their potential. Matt Ryan has been spectacular despite all this, passing for 3306 yards, 22 TDs, and just 4 INTs this year, and is averaging 8.5 yards per attempt and completing 71.1% of his passes. Julio Jones is his top target, and leads the league in receiving yards with 1158 yards and 3 TDs on 73 receptions. Calvin Ridley is another threat, and has caught 39 balls for 532 yards and 7 TDS. Telvin Coleman and Ito Smith have formed a decent duo out of the backfield in place of the injured Devonta Freeman. Coleman has rushed 114 times for 500 yards and 2 TDs, while Smith has rushed 59 times for 199 yards and 4 TDs.
The Falcons defense has been a bit shaky, and are bottom 5 in points allowed at 27.6 PPG. Through the air, they have allowed 21 TDs and are giving up 284.1 yards per game. Atlantas run defense is below average, having allowed 13 TDs on the ground and are giving up 121.2 yards per game. Atlanta has also struggled to force turnovers, and have 8 interceptions but just 1 fumble recovered, and are bottom 5 in sacks with just 19.
Injuries and Inactive Watch
LB Deion Jones (foot) – questionable
New Orleans Saints
This Saints offense is absolutely cooking right now. Drew Brees is on pace to shatter his own completion percentage record (72%) from last season, as he is completing 76.9% of his passes right now, and has still thrown for 2964 yards and 15 TDs to just 1 INT while averaging just shy of 9 yards per attempt. Michael Thomas is on pace to be an All-Pro, racking up 82 receptions for 1042 yards and 8 TDs. Running back Alvin Kamara has also hauled in 56 catches for 510 yards and 4 TDs. Kamara has also been very efficient on the ground, rushing 136 times for 617 yards and 11 TDs, while his counterpart Mark Ingram has carried 79 times for 388 yards and 4 TDs since his return from suspension.
The Saints defense has been average to this point. They are allowing 23.9 PPG which is right in the middle of the pack, and are giving up 280.3 yards per game through the air and 19 TDs. New Orleans run defense is still among the best in the league, allowing just 77.9 yards per game, but have allowed 10 TDs on the ground. The Saints are average in terms of forcing turnovers as well, picking off 9 passes this year and recovering 4 fumbles, and are below average in sacks with 24.
Injuries and Inactive Watch
T Terron Armstead (shoulder) – questionable, G Andrus Peat (undisclosed) – questionable, G Larry Warford (head) – questionable, EDGE Marcus Davenport (toe) – questionable
Predictions
When this season's schedule was made, this game looked like a great cap to a day of Thanksgiving football, but as we moved along in the season, the Saints turned into a juggernaut and the Falcons fell apart. The Falcons offense is still a more than capable unit, and should move the ball through the air against a subpar Saints secondary. However, the combination of their lack of rushing threat and the Saints stellar rushing D will turn them into a one dimensional offense. When Sheldon Rankins and Cam Jordan can pin their ears back, it can spell disaster for opposing QBs.
The Saints haven't punted in over 2 weeks. I don't know how else to explain the success this offense is having as they move the ball at will and Drew Brees completes balls that should be picked off. The Falcons defense may be bolstered by the return of Deion Jones, but he cant make up for their subpar play at the corner position. Drew Brees should eat the Falcons up and when they get a decent lead, they can still keep the Falcons off balance by utilizing Alvin Kamara, Mark Ingram, and Taysom Hill in a variety of roles. 10 points is a lot in a division game, especially in primetime, but the Saints are playing such great football right now that I can't bet against them.