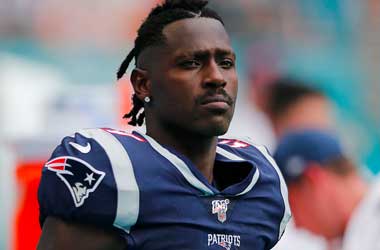 Former New England Patriots receiver Antonio Brown met with the NFL last week to address the sexual assault allegations that has tarnished his career and got his sacked from the Patriots. The meeting went on for over eight hours but there is no indication as of now as to whether things will work out for Brown who had earlier claimed that he is done with the NFL.
The Patriots signed Brown during the first week of September 2019 and had big plans for the receiver. He played just one game for them and scored a touchdown making his presence on the field felt. However, when allegations of sexual assault made the headlines, the Patriots decided to take a call and sack him on Sep 20.
Antonio Brown was clearly upset with the sacking as he felt that the Patriots should have stood by him but had let him down in his hour of need. He would later go on to lash out at Robert Kraft, the man who owns the New England Patriots.
ESPN
Brown targeted Kraft by referring to allegations of him receiving a sex act at a massage parlour but no action was taken against him by the Patriots because he owns the franchise. He went on to accuse the NFL team of using different strokes for different folks.
Brown also went on to target quarterback Ben Roethlisberger who plays for the Pittsburgh Steelers. He was accused of sexual assault back in 2010 and received a four game suspension only. Brown wanted to know why he was subject to a termination of contract and not given any leniency.
Apology on Social Media
Brown appears to have got his emotions under control and is keen on making amends. When you want to play in the NFL, it is never a good idea to go after NFL team owners or take pot shots at veteran players. Brown issued an apology via Instagram and it is up to the fans to decide whether it is a genuine apology or a forced apology that looks to smooth things over for his return to the NFL.
In a social media post, Brown wrote
Mr.Kraft I apologize sincerely to you and your organization! All I wanted to be was an asset to the organization; sorry for the bad media and the drama! Thank you sincerely AB