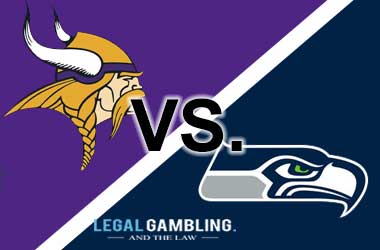 Two NFC playoff teams face off in a battle for potential seeding. The Seahawks lead the all time series 10-5, and have won 4 straight head to head.
Minnesota has been up and down most of the season, most recently losing 24-10 in New England. In week 11, they lost 25-20 to the Bears, and beat the Packers 24-17 in week 12.
Seattle has won 3 straight, most recently over the 49ers by a score of 43-16. In week 11, they beat the Packers 27-24, and in week 12 they beat the Panthers 30-27.
Intertops have the Seahawks as 3 point favourites with an O/U of 45.5.
Minnesota Vikings
Minnesota is searching for consistency on both sides of the ball. Kirk Cousins has come under a lot of scrutiny, but has put up good numbers behind a weak offensive line. Cousins has thrown for 3490 yards, 23 TDs and 9 INTS while completing 71.3% of his passes and averaging 7.1 YPA. Adam Thielen leads the team in receiving with 98 catches for 1166 yards and 9 TDs while Stefon Diggs has been fantastic as a #2 with 84 catches for 839 yards and 6 TDs. Latavius Murray (111 carries/466 yards/5 TDs) and Dalvin Cook (74 carries/312 yards) have been largely ineffective on the ground outside of a few long runs.
Minnesota's defense is just above average in terms of scoring, allowing 22.5 PPG. The Vikes pass defense is in the top 10, allowing 228.6 yards per game and 15 TDs through the air, while their pass rush ranks top 10 with 36 sacks. Minnesota's run defense ranks top 10, allowing just 99.2 yards per game and 8 TDs. Minnesota has forced 19 turnovers on the year, but own just a +1 turnover margin.
Injuries and Inactive Watch
CB Trae Waynes (concussion) – questionable, WR Stefon Diggs (knee) – questionable, LB Eric Kendricks (ribs) – questionable
Seattle Seahawks
The Seahawks offense has caught fire the last 4 weeks, averaging 32.8 PPG in that time span. Russell Wilson has been efficient in limited opportunities, throwing for 2716 yards, 29 TDs and 5 INTs while completing 66.6% of his passes and averaging 8.3 YPA. Tyler Locket leads the team with 44 receptions for 713 yards and 9 TDs, and owns a perfect passer rating when targeted. Doug Baldwin (37/388/2) and David Moore (22/413/5) provide complementary roles. The heart of the offense is the run game, which is spearheaded by Chris Carson's 704 yards and 4 TDs on 157 carries. Mike Davis (90/396/3) and Rashaad Penny (73/369/2) have gotten plenty of work as well.
Seattle's scoring defense is in the top 10, allowing just 21.6 PPG. Their pass defense is below average, allowing 250.7 yards per game and 20 TDs through the air, and their pass rush ranks average with 31 sacks. Their run defense ranks just below average, allowing 116.8 yards per game and 9 TDs on the ground. The Seahawks defense has forced 20 turnovers, and as a team they rank t-2nd with a turnover differential of +11.
Injuries and Inactive Watch
WR Doug Baldwin (hip) – questionable, RB Chris Carson (finger) – questionable, T Duane Brown (ankle) – questionable
Predictions
The Minnesota roller coaster continues this week, but offensively they should find favorable matchups on the outside to either of their 2 receivers (Thielen or Diggs) as the Seahawks don't have anyone who can run with either of them in man coverage. Up front, the Seahawks should dominate the line of scrimmage and make running the ball hard for Latavius Murray and Dalvin Cook, as well as maintain pressure on Kirk Cousins consistently due to the flaws of the Vikings O line.
Seattle has put up big numbers offensively by controlling the ball, taking opportunistic deep shots, and finishing drives in the end zone. The Vikings defense has definitely improved over the course of the season, but has not faced a rushing attack as potent as the Seahawks. Taking into account the home field advantage, which is a real factor in Seattle, the Seahawks should walk away with a win by atleast a field goal.
Final Pick: Seahawks (-3)