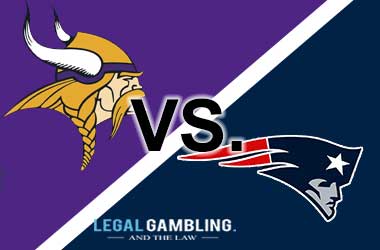 The Vikings travel to Foxborough to take on the Patriots to headline the afternoon slate Sunday. The Patriots lead the all time series 8-4, and have won 4 straight matchups head to head dating back to 2002.
Minnesota defeated their rival Packers last Sunday night 24-17. In week 9, they beat the Lions 24-9, had a bye week in week 10, and lost to the Bears 25-20 in d week 11.
New England bounced back with a 27-13 win over the Jets last week coming off their bye. In week 9, they beat the Packers 31-17, and lost 34-10 in week 10 to the Titans.
Intertops have the Patriots as 6 point favourites with an O/U of 48.5
Minnesota Vikings
The Vikings are firmly in the playoff race in the NFC, but a win over the Patriots would go a long way in proving they can be competitive down the stretch. Kirk Cousins has thrown for 3289 yards, 22 TDs and 7 INTs on the year while completing 71.1% of his passes and averaging 7.4 YPA. Adam Thielen leads the team in receptions (93), yards (1138), and TDs (8) through the air, while Stefon Diggs provides a dynamic #2 with 79 catches for 790 yards and 6 TDs. The run game still has a lot of room for improvement, being led by Latavius Murray with 107 carries for 455 yards and 5 TDs, while Dalvin Cook showed improvement last week to bring his totals up to 65 carries and 228 yards.
The Vikings are ranked 10th in scoring defense, allowing just 22.4 PPG. They are top 5 in passing defense, allowing 221.1 yards per game and just 14 TDs through the air, and are top 5 in sacks as well with 36. They are top 5 in rushing defense, allowing just 93.6 yards per game and 6 TDs on the ground. Minnesota has forced 18 turnovers on the year, but own just a +2 turnover differential.
Injuries and Inactive Watch
CB Xavier Rhodes (hamstring) – questionable, LB Ben Gedeon (concussion) – questionable, T Brian O'Neill (concussion) – questionable
New England Patriots
Following the Patriots loss to the Titans over 2 weeks ago, we went through the same "are the Patriots in trouble?" talk over their bye week. It happens at least once a year, but we know how dangerous New England is after Thanksgiving, perennially finishing the season strong to inevitably end up with a 1st round playoff bye. On the year, Tom Brady has thrown for 3031 yards, 19 TDs and 7 INTs while completing 65.2% of his passes and averaging 7.5 YPA. He has 4 targets with over 500 receiving yards on the year, a feat only matched by the Tampa Bay Buccaneers. James White (67/567/6), Julian Edelman (44/510/3), Rob Gronkowski (32/504/2), and Josh Gordon (31/547/2) each threaten the defense in different ways, and Brady takes full advantage of his bevy of options. Rookie running back Sony Michel leads the team in rushing with 586 yards and 5 TDs on 127 carries, while James White is a nice change of pace with 70 carries for 303 yards and 4 TDs on the ground.
The Patriots are 11th in scoring defense, allowing 22.6 PPG. They are in the bottom quarter of passing defense, allowing 269.7 yards per game and 22 TDs through the air, and are 30th in the league in sacks with 17. They are average in run defense, allowing 107.7 yards per game and 5 TDs on the ground. New England has forced 18 turnovers on the year and own a +5 turnover margin.
Injuries and Inactive Watch
TE Dwayne Allen (knee) – questionable, S Nate Ebner (knee) – questionable
Predictions
The Patriots are always dangerous the later on it gets in the season, and are nearly unbeatable at home. The Vikings offense has the firepower to give them a run however, and we should see a lot of creativity from Belichick and the gang to slow down the Diggs/Thielen combination. The Patriots have always employed a "bend don't break" type of mentality on the defensive side of the ball, and the Vikings should move the ball, it's just a matter of whether or not they will be able to get into the endzone.
New England faces a tough test against a well rounded Vikes defense that is hiting it's stride recently. They just have an overwhelming amount of weapons to attack their coverages, and their run game has really come around with Sony Michel. To boot, they have the GOAT behind center to break down the opposition. In the end, the Patriots are the better coached and better quarterbacked team, and are about to go on a nice little run to end this season. Roll with the Pats here.
Final Pick: Patriots (-6)