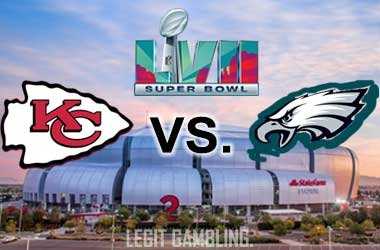 strong>Summary
Around $16bn is estimated for bets on the upcoming event.
The game will feature two black quarterbacks for the first time ever.
Experts estimate 30 million people will place bets via sportsbooks.
Super Bowl LVII is setting up to be an epic event and the American Gaming Association (AGA) believe that around 50 million Americans will wager on the big game.
The legalized US sports betting market waits for the Super Bowl every year as it is the one of the most popular times for wagering. The AGA believes that around $16 billion will be bet on the game, about 50% more than last year.
Monumental Football Game
Each year, the Super Bowl seems to get bigger and better than ever. If your favorite team is playing, then it is an even more exciting event. This year, there are a few key points that should help to boost betting in general, along with the fact that the Philadelphia Eagles and the Kansas City Chiefs are popular teams.
The game will mark the first time that the two starting quarterbacks will be black. Jalen Hurts will start for the Eagles and Patrick Mahomes for the Chiefs. The game will also be the first time that two brothers will play on opposing teams. Jason Kelce is a member of the Eagles and his brother Travis Kelce plays for the Kansas City Chiefs.
Efforts are being made to see the Kelce brothers mom involved in the game, with a petition for her to throw the coin toss. These little elements are sure to bring more bets to the big event and could create a record-setting occasion.
Survey Results by the AGA
The American Gaming Association conducted a survey connected to Super Bowl betting and found that over 50 million Americans are expected to place bets on the game this weekend. Around $16 million could be wagered, which would easily outpace last year's event.
The AGA expects that the majority of wagers will take place online, with around 30 million people set to bet from home or visit a retailer. The remaining 28 million plan to wager casually by utilizing square contests, an office pool or with friends.
As the legal sports market continues to grow state by state, sports fans are becoming more interested in betting. The AGA recently reported that NFL betting interest has grown, with around 34% of fans saying they place bets because it makes watching the game more exciting.
The AGA's survey showed that fans are split as to who they think will win the game, though we have given our own thoughts in an exclusive preview. 44% plan to wager on the Chiefs or Eagles. It will certainly be an interesting matchup and online sportsbooks have already launched contests and special bets for players to earn incentives and take part in the big game.