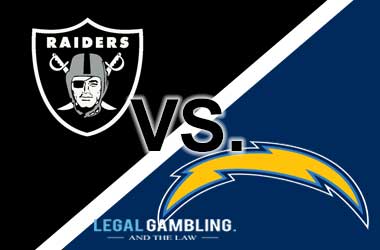 Two AFC West rivals go head to head Sunday when the Raiders travel to LA to take on the Chargers. The Raiders lead the all time series 62-52-2, but dropped both their games against the Chargers a season ago.
The Raiders are coming off a 45-42 overtime win against the Browns. Previously, the Raiders lost 20-19 in week 2 to the Broncos, and lost week 3 28-20 to the Dolphins The Chargers sweat out a win as well, beating the 49ers 29-27. In week 2, the Chargers beat the Bills 31-20, and lost 35-23 to the Rams in week 3.
Oddsmakers currently have the Chargers as 6 point favourites at home, with an O/U total of 54.
Oakland Raiders
Derek Carr has been playing solid football the past few weeks for the Raiders, ranking 4th in the league with 1373 yards, and has thrown 6 touchdowns. Carr has also thrown 7 interceptions, but some have been just terrible luck. He is showing a good command of Jon Gruden's offense, and the Raiders have 5 players over 100 yards receiving. Tight end Jared Cook leads the way with 370 yards and 2 touchdowns, but Jordy Nelson also has 274 yards and 2 touchdowns and Amari Cooper has 270 yards and a touchdown as well.
Marshawn Lynch is running like a man possessed, rushing for 300 yards to date, and has 3 touchdowns on the year. The offensive line has been solid, but rookie tackle Kolton Miller has allowed 11 pressures, and veteran guard Gabe Jackson has allowed 12.
The pass rush might be the worst in the NFL. The Raiders do not have a single player with more than 7 pressures (Arden Key). As a team, they have just 5 sacks. The secondary has been solid, but linebacker Tahir Whitehead has been picked on in coverage. Whitehead has allowed 178 yards receiving and 3 touchdowns, and is allowing a 92.3% completion percentage when targeted.
Injuries and Inactive Watch
S Karl Joseph (hamstring) – questionable, OT Donald Penn (leg) – questionable
Los Angeles Chargers
The Chargers snuck by the 49ers last week, and have quietly gone 2-2 this season behind a diverse offensive attack. Phillip Rivers has thrown for 1156 yards, 11 touchdowns, and just 2 picks. Rivers looks as good as ever, even amidst a crumbling offensive line. Sam Tevi and Dan Feeney have combined to allow 35 pressures and 3 sacks, but the rest of the line has been solid.
Melvin Gordon and Austin Ekeler have provided a dynamic rotation in the backfield. Gordon has 54 carries for 276 yards and 2 touchdowns. Gordon has also added 199 yards receiving and 3 touchdowns. Ekeler has 28 rushes for 188 yards, and also has 163 yards receiving and 2 touchdowns. Keenan Allen and Mike Williams have also been a formidable duo in the receiving game, combining for 36 receptions, 486 yards, and 4 touchdowns.
The defense still misses Joey Bosa, as Melvin Ingram (16) is the only player with 10+ pressures on the Chargers roster. Do-it-all rookie safety Derwin James has added 9 pressures on just 22 pass rushing snaps, and has 3 sacks as well. The secondary is solid but unspectacular, as they have been beaten mostly on chunk plays.
Injuries and Inactive Watch
WR Travis Benjamin (hamstring) – questionable, OT Russell Okung (groin) – questionable, LB Kyzir White (knee) – out, OT Joe Barksdale (knee) – questionable
Matchups to Watch
Raiders TE Jared Cook vs Chargers S/LBs
Raiders OTs vs Chargers EDGE Melvin Ingram
Chargers RBs vs Raiders LBs
Chargers OL vs Raiders Pass Rush
Predictions
Rivers should continue his early season success, and should have plenty of time to throw for the first time this season. Melvin Gordon and Austin Ekeler should see plenty of work as the Chargers attempt to keep the ball away from the Raiders.
The Raiders offense has been explosive the past couple weeks, and that does not bode well for the Chargers D. Derek Carr should have plenty of time of his own, and Jon Gruden knows how to beat these Cover 3 schemes. The Raiders are really not as bad as their 1-3 record may show, and I feel fairly confident they will keep this close atleast.
Divisional matchup, where travel distance is minimal, in a stadium where the home team has virtually no home field advantage? Sounds like a recipe for a close game. Neither team has showed their ability to pull away from teams, and neither has really gotten blown out, and the Raiders will probably have more fans at this game than the Chargers do. We will take the fighting Jon Gruden's to cover.
Final Pick: Raiders (+6)