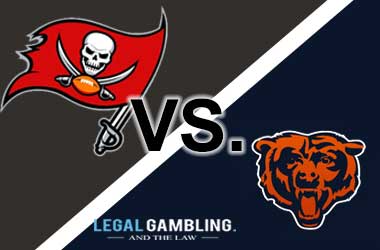 Two NFC teams at the top of their respective divisions face off Sunday as the Bucs travel to Chicago to take on the Bears. Both teams are sitting at 2-1 after many experts predicted them both to be at the bottom of their divisions.
The Buccaneers are coming off a Monday night shootout against the Steelers, failing to complete their comeback and losing 27-30. Previously, they beat the Saints 48-40, and defeated the Eagles 27-20.
The Bears lost to their archrival Packers week 1, 23-24. Since then, they've beaten the Seahawks 24-17, and the Cardinals 16-14.
Oddsmakers currently has the Bears as 3 point favourites, with an O/U total of 46.5.
Tampa Bay Buccaneers
Possibly the biggest storyline in the league thus far in the season, the Buccaneers offense has been rolling. Ryan Fitzpatrick leads the league in passing yards through 3 weeks with 1230, and is 2nd with 11 touchdowns.
Fitzpatrick made a few questionable throws Monday night, resulting in 3 first half picks, but led a furious 2nd half comeback after the Bucs fell down 30-13. He led 3 scoring drives, including a leaping touchdown grab by Chris Godwin and a nice grab by Mike Evans for another.
The run game continues to be nonexistent for the Bucs. It appeared they might be in for a breakout game following Peyton Barbers early 18 yard scamper, but it was more of the same after, with designed runs going for just 18 yards on 10 carries aside from Barbers long run.
This defense continues to exceed my expectations. They were in Big Bens face all game, and had a few near sacks that would have been sacks against almost any other quarterback. After fielding possibly the worst secondary in the league a year ago, the unit is by no means elite, but has made significant strides toward creeping back towards average.
Injuries and Inactive Watch
S Chris Conte (knee) – Placed on IR, DT Beau Allen (foot) – questionable, DT Vita Vea (calf) – questionable
Chicago Bears
After appearing promising after week 1's duel with Aaron Rodgers, Mitchell Trubisky has shown that he still has a long way to go before Matt Nagy can confidently open up the playbook to his young quarterback. The Bears have gotten by despite Trubisky to this point, and that's not something you want to say about a guy you took 2nd overall.
Granted, we were saying the same things about Jared Goff after his rookie year, but Trubisky looks like he has regressed from his first season. My personal take on Trubisky this season is that Nagy is overwhelming him a bit. Trubisky was in a very simple offense in college, and John Fox's offense was not quarterback friendly, so this is really his first crack at a real NFL offense.
The Bears offensive line has really been impressive thus far. The O line has only given up 18 pressures, and Trubisky's legs have gotten him in more trouble than the line play. The Bears D is really what has been carrying them. Khalil Mack continues to be a terror, with 20 pressures and 4 sacks, 3 forced fumbles, and an interception. Danny Trevathan and Akeim Hicks have been stalwarts in the run game, with 21 combined tackles for a 2 yard gain or less. The Bears also rank 3rd in the NFL in interceptions with 5.
Injuries and Inactive Watch
CB Prince Amukamara (hamstring) – considered day-to-day, WR Anthony Miller (shoulder) – considered day-to-day
Matchups to Watch
Bucs WRs vs Bears Secondary
Bucs OTs vs Bears EDGE Khalil Mack
Bears TE Trey Burton vs Bucs S/LBs
Bears OL vs Bucs DL
Predictions
Ryan Fitzpatrick is now playing for his job, with Jameis Winston returning from suspension this week. What's rough for him is that he has to face a ferocious Chicago defense.
This is a tough matchup across the board for the Buccaneers offense, as the Bears have playmakers all over the field. Containing Khalil Mack is obviously a huge issue for any offensive line, but Fitzpatrick has to be worried about this secondary after throwing 3 interceptions against a middling Steelers defensive backfield.
That wont stop Fitz though, as he is a gunslinger through and through. They will live and die by his arm this week, as he could carry them to another big offensive output, or continue his turnover streak and plunge the Bucs into a lopsided loss.
The Bears offense won't find the running lanes they're accustomed to against this tough Bucs defensive front 7. Mitch Trubisky is going to have to carry the Bears in this game against an average Bucs secondary. I expect the Bears to continue to simplify things for Trubisky as he leans on his tight ends and short routes to Allen Robinson and Tarik Cohen.
We're gonna take the Bears in Chicago, as I believe their defense has enough difference makers to rough Fitzpatrick up a bit, and put Trubisky and the Bears offense in positions to succeed as they have through their first 3 games.
Final Pick: Bears (-3)