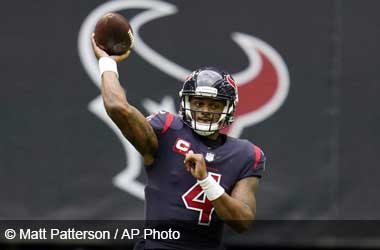 Summary
Watson and the player's union will reportedly sue the NFL if he is suspended for a year
Watson and NFLPA will find it difficult to win their case should they proceed with their plan
Retired judge Sue Robinson will release her ruling by next week
Deshaun Watson won't give up without a fight in the ongoing sexual misconduct controversy involving his name.
According to reports, the star quarterback intends to file a lawsuit against the National Football League (NFL) in federal court if he is handed down a full-year suspension owing to the allegations thrown against him. The NFL Players Association (NFLPA) will also help him in his fight.
Disciplinary Ruling on Watson Due Next Week
Watson has been accused by 24 women of sexual misconduct and coercive behavior from March 2020 to March 2021. The 26-year-old has since settled 20 of the 24 civil cases without being charged. The NFL launched an investigation into the allegations back in March 2021.
The 15-month inquiry culminated in a recent three-day NFL disciplinary hearing, the results of which are due out next week, to be delivered by retired federal judge Sue Robinson, the arbitrator jointly appointed by both the NFL and the players' union to supervise the hearing.
All eyes are now on Robinson's possible recommendations, which could include a full-year suspension to be enforced against the athlete. The NFL can suspend Watson as part of its personal conduct policy. But the saga won't end there as Watson and the NFLPA will fight back if Robinson rules against him. Whether they will succeed in that matter remains to be seen.
Watson and NFLPA Will Likely Fail if They Sue NFL
Looking at previous cases involving the suspensions of Ezekiel Elliott and Tom Brady, Watson will face an uphill battle trying to overturn the ruling. Both players attempted to fight a suspension handed down against them but ultimately failed.
The NFL has an inherent advantage when it comes to these types of cases as it can immediately file the paperwork once the results of an internal investigation come out, and usually, the odds would go in its favor.
The NFLPA will find it difficult to even challenge the NFL's existing personal conduct policy given that it was primarily involved in negotiating a new CBA with the league. If the union had found flaws in the rules and policies, it could have made an effort to fix them much earlier.
To have the slightest chance to win the case, the NFLPA must be able to establish that the league breached its own rules and regulations, and this won't be an easy job.