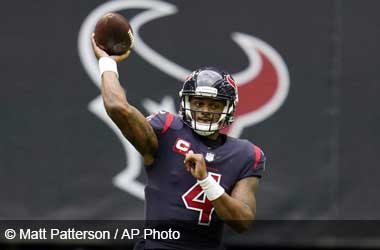 When news broke initially that Houston Texans quarter Deshaun Watson was facing a couple of sexual misconduct lawsuits, Watson immediately denied them claiming that the parties involved were trying to blackmail him and get him to pay up.
The allegations against Watson were from massage therapists who claimed that he behaved inappropriately with them.
Watson debunked those allegations saying that he behaved as a gentleman at all times.
Since reports broke of Watson denying those claims and terming the two women as liars, a lot of other women have come forward with similar stories.
At the time of this writing, there are now a total of 21 sexual misconduct lawsuits filed by different women against Deshaun Watson.
The last two lawsuits were filed this week at the Harris County (Texas) District Clerk on behalf of a Houston massage therapist who was looking to get her license and an Arizona massage therapist.
NBC Sports
The Houston massage therapist has made some damaging claims against Watson claiming that he was her massage client on four occasions during 2020. She said on the first three occasions, he exposed himself to her and let his penis touch. However, the woman continued to have him as a client since she feared that he would destroy her career.
The fourth occasion was the most troublesome to her as he coerced her into having oral sex with him and would go on to ejaculate on her. She said that it was the last time she had him as a client even though he wanted to work with her again.
Watson Contacting Women To Settle Lawsuit
Some of the women who have filed lawsuits against Deshaun Watson claim that they have been contacted via Instagram with the aim of settling the lawsuit out of court. The Instagram messages did not come directly from Deshaun Watson but from his intermediaries.
However, Rusty Hardin who is the legal counsel for Watson denied these claims stating that neither Watson nor any of his intermediaries have tried to get in touch with these women via Instagram. Hardin also submitted statements from 18 massage therapists who claim that they have worked with Watson and vouch for the fact that he always behaved in a professional manner and never made them feel uncomfortable at any time.
So far no criminal charges have been filed against NFL's Deshaun Watson.