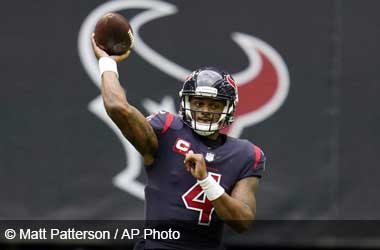 Houston Texans quarterback Deshaun Watson has made headlines after two women filed lawsuits against him alleging sexual assault. Both women claim that they were hired as massage therapists to treat the NFL quarterback when he became aggressive and sexually assaulted them.
The first incident allegedly took place in March 2020 when the 25 year old made it clear to the massage therapist that he wanted more than just a massage. He ended up touching her inappropriately with his penis and then getting aggressive when she resisted his advances.
Deshaun Watson was quick to deny the first allegation stating that he always treated women with respect and dignity.
He also made it clear that the massage therapist had asked him to pay her a sum of $100,000 failing which she would go public with these allegations and file a lawsuit. Watson did not pay her any money and said he was very keen on clearing his name.
A couple of days later, a second woman has filed a similar sexual assault lawsuit against Watson in Harris County, Texas. Her compliant is a lot more graphic stating that she was contacted by Watson over Instagram and he offered to fly her from Atlanta to Houston to give him a massage.
The woman who is referred to as 'Jane Doe' in the lawsuit claimed she was puzzled at first to get this request from Watson as she wasn't a very well-known massage therapist. However, when she started her massage session with Watson she found him very aggressive, wanting to be massaged in the nude and asking her to massage his anus.
Jane Doe claims that she stopped the massage when it started to get very aggressive and while Watson was in the shower, she exited the hotel room in a hurry and only took half her payment. The two plaintiffs are reportedly claiming minimum compensatory damages from Watson so that it does not appear that they are after his money.
Undisputed Today
Texans Keeping Close Watch On The Situation
Watson signed a four year contract valued at $156 million with the NFL team that guarantees him $73 million. The Texans said that they were aware that a civil lawsuit was filed against Deshaun Watson and were keeping a close eye on the situation.
The Texans claimed that they had no other information on the matter and will wait for more news before a releasing a statement on Watson and his future with the franchise.