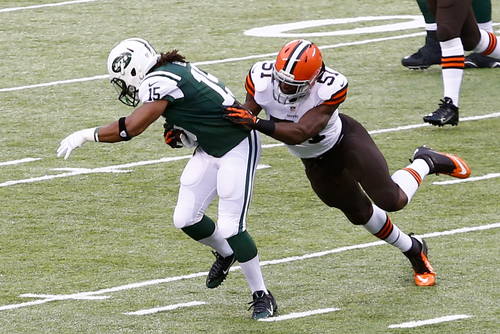 Quite possibly the biggest storyline this offseason has been revolving around the Cleveland Browns and their potential emergence from the cellar. Appearing on Hard Knocks only exacerbated these expectations, and now the Browns have turned from whipping boy to public darling.
The Pittsburgh Steelers are coming into the 2018 season with another Super Bowl or Bust mentality. With an electric core of Ben Roethlisberger, Antonio Brown, and Le'Veon Bell, the Steelers have boasted one of the NFL's most explosive offenses over the past few years. Their hopes may have taken a hit however, with news of Le'Veon Bell's prolonged contract disputes reportedly spilling over into the regular season, and he is expected to miss substantial time this season.
This AFC North rivalry features huge storylines from both teams, and should be a much more interesting matchup than in years past. MyBookie has the line for this game set in favor of the Steelers at (-4) and an over/under total set at 44.5.
Pittsburgh Steelers (13-3 in 2017)
The Steelers will be without their versatile superstar Running Back Le'Veon Bell for this matchup, as contract disputes with the Steelers have taken a turn for the worse. Bell's agent has hinted that his absence may last longer than a few weeks. Pittsburgh's Offensive Linemen, including Ramon Foster and Maurkice Pouncey have publicly ripped Bell for his absence as drama continues to follow this franchise.
But the Steelers won't let Bell's attendance, or lack thereof, affect their win now mentality. Reports are that Big Ben Roethlisberger showed up to camp noticeably thinner and more spry than he has in years. Pittsburgh also brought in a new Offensive Coordinator in former Wide Receiver's coach Randy Fichtner, who they promoted to take over after Todd Haley's departure.
A lot has been made of the Steelers' high-powered offense, but their defense has shown a lot of potential. A strong front line led by TJ Watt, Stephon Tuitt, and Cameron Heyward attack opposing Quarterbacks with a variety of blitzing schemes designed by Keith Butler. The Steelers led the NFL in total sacks last year with 56, and hope to be back near the top in 2018.
Their defense missed Ryan Shazier in the postseason last year, one of the most dynamic Inside Linebackers in the league, who suffered a horrendous neck and back injury on a hit against
Cincinnati last December. They are hoping to piece together a rotation of guys to make up for Shazier's absence. Vince Williams is expected to step up big time, and the Steelers drafted Strong Safety Terrell Edmunds and brought in Safety/Linebacker Morgan Burnett in Free Agency to help fill Shazier's role in coverage.
Injuries and Inactive Watch
TE Vance McDonald (foot)- questionable, limited participant Wednesday in practice
EDGE Ola Adeniyi (hamstring)- placed on IR
WR Eli Rogers (knee, suspension)- placed on PUP to start the season, will not play
Cleveland Browns (0-16 in 2017)
The Browns have put in a lot effort to turn from perennial cellar dweller to playoff contender very quickly trading for Wide Receiver Jarvis Landry and Quarterback Tyrod Taylor. After 20 years of not having a legitimate Quarterback, the Browns decided one wasn't enough, drafting Quarterback Baker Mayfield with the 1st overall pick, and then supplemented their defense with Cornerback Denzel Ward 4th overall. Featured on HBO's Hard Knocks series this preseason, people have really taken to the Browns, despite their 1-31 record over the past 2 seasons.
However, Hard Knocks has not been kind to teams the past few years. After being featured in 2016, the Los Angeles Rams fell flat in their return to LA, going 4-12 on the year, followed by 2017's featured team, the Tampa Bay Buccaneers going 5-11. The good news for the Browns is that the only direction they can go is up.
This may be a Todd Haley revenge game. Haley served as the Offensive Coordinator in Pittsburgh from 2012 to 2017, but his contract was not renewed after he and Big Ben did not see eye to eye. Haley will look to spite his old Quarterback and light up the scoreboard Sunday.
The Browns have had a lot of turnover on their roster, but that doesn't mean there isn't homegrown talent. Edge Rusher Myles Garrett posted 7 sacks in just 11 games last year after being the 1st overall pick in 2017. Garrett is looking to break out in 2018 and potentially compete for Defensive Player of the Year in just his second season.
Injuries and Inactive Watch
WR Josh Gordon- expected to play limited snaps
DT Trevon Coley (ankle)- questionable, limited participant in Wednesday practice
LB James Burgess (concussion)- questionable, did not practice Wednesday
Matchups to Watch
Pittsburgh's Wide Receivers vs. Cleveland's Defensive Backs
Pittsburgh's Linebackers vs. Cleveland's Running Backs and Tight Ends
Cleveland's Interior O-Line vs. Pittsburgh's Defensive Tackles
Cleveland's Edge Rushers vs. Pittsburgh's Offensive Tackles
Steelers vs. Browns Prediction
The Steelers light the Browns up. I don't buy the whole "Browns are back" line. Sure, the talent is there to be a fringe playoff team, but any squad led by Hue Jackson just doesn't do it for me.
We think the Browns come out flat after their Hard Knocks appearance, still caught up in the lights and cameras, and lose by 7 to 10 points. Myles Garrett will get his share of pressures, and Gregg Williams aggressive defense may force a turnover or 2 off of Big Ben, but their offense will ultimately not be able to keep up with the Steelers here.
The Browns will improve in 2018, but it may not look like it this week. Tyrod Taylor will have to make some big time throws, and in the end, his conservative nature is not made to keep up with Pittsburgh's offense.
Le'Veon Bell won't be missed…at least this week. His absence is overstated, and Pittsburgh always does just fine if not better when he is out of the lineup. Backup Running Back James Conner is a more than capable stand in, and I expect him to perform well enough to take some of the pressure off Roethlisberger and Antonio Brown in the passing game.
Antonio Brown always shows up big against the Browns, and I look for another huge game here. Even if the Steelers don't find the end zone every trip, they shouldn't have a problem putting up points against Cleveland in Week 1, and we like the Steelers to cover on the road here.
Final Pick: Pittsburgh (-4)