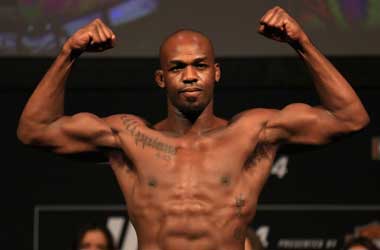 Jon 'Bones' Jones will definitely go down into the record books as one of the best mixed martial arts (MMA) fighters in the history of the sport. Jones has been the most dominant UFC Light heavyweight champion and has never lost the belt.
However, he has had the belt stripped from him on more than one occasion for his antics outside the Octagon. His latest controversies are due to a steroid known as Turinabol which saw him get banned in July 2017 for a period of 15 months.
Jones returned to fight Alexander Gustaffsson for the Light Heavyweight Championship even though his test results showed that he had a M3 Turinabol metabolite in his system – 33 picograms to be precise.
MMA WORLD
The California State Athletic Commission (CSAC) stated that this metabolite was still in Jones system and since he was already punished in 2017, he would not receive any further punishment and be allowed to fight.
Jones defeated Gustaffsson to reclaim his UFC championship. Prior to the fight, Jones who was tested by USADA also agreed to be tested by VADA. Drug testing for VADA in the state of California is usually an optional testing procedure but since Jones USADA test showed positive traces for the M3 metabolite, he was forced to take a VADA test.
The recent VADA test once again shows that the M3 metabolite is present in Jones' system. While Jones and his team continue to stress the fact that a pictogram is like breaking down a grain of salt into 50 million pieces, the fact remains that Jones did test positive.
The hard-core MMA fan will always be sceptical about Jon Jones's achievements as he has failed multiple drug tests in the last few years.
CSAC Back Jon Jones
Jon Jones continues to claim that he has never cheated in his career and does not need a picogram to enhance his skills or strength. Jon Jones is scheduled to make a quick return to the Octagon in March to defend his belt against Anthony Smith at UFC235. As usual Jones is the favourite to win!
The CSAC continues to back Jon Jones and play down his test results.
In a statement, Andy Foster, head for the CSAC said
I spoke with the scientists. They stand by their original statement. Nothing has changed. We've already punished Jon Jones for the M3 metabolite, which is a long-term metabolite. There's no grounds to charge somebody twice for the same violation.