UFC Sportsbooks – Legal Online UFC Betting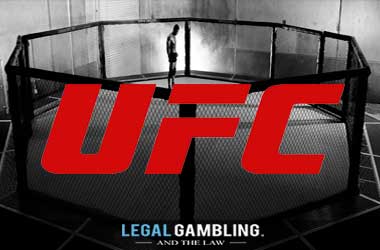 In the world of aggressive sports, the Ultimate Fighting Championship, also known as UFC, has earned its name in being one of the fastest growing sports organisations in the world. This organisation is based in Nevada, Las Vegas, and is known for its history regarding mixed martial arts promotions and it features having the top-ranked fighters of the sport.
The Ultimate Fighting Championship was originally created in 1993, and it was one of the first organisations that specialised in promoting mixed martial art fighting (MMA). Throughout the years, the UFC changed the fighting business in a multitude of ways. However, most noticeably, is the outstanding way that the UFC has sold out some of the largest areas due to the events that they sponsor and hold.
As previously stated, the UFC is located in Nevada, Las Vegas. However, the organisation has headquarters in Toronto, Singapore and London. Each one of these locations has their own events and arenas that sell out, which gives potential bettors more opportunities to place their bets on a wide array of fights. The United Fighting Championship is also dubbed as being one of the more diverse organisations in the world as well. The organisation produces more than forty live events yearly and is broadcasted live over 129 countries in 28 different dialects.
Currently, the UFC is the organisation that requires the fighters to be specialised in a multitude of fighting techniques: karate, jiu-jitsu, wrestling, judo, and many more, to even be allowed to compete at the professional level. Which in turn, lets viewers and bettors have a more diverse understanding and appreciation of different fighting techniques
In the last few years, the UFC has laughed a digital subscription service called 'UFC Fight Pass' which allows subscribers to access exclusive live events, on-demand matches, and original content – some of which can be bet on. This feature can come in handy to bettors who are serious and love the MMA sport!
List of Sports Betting sites accepting players from the USA:
This article will include betting sites that are relevant to the UFC and mixed martial arts. These betting sites will allow the bettor to make bets with the various matches, events, and championships that the UFC sponsors and holds. Another added feature in this article will be the many tips and strategies included so that bettors will have more knowledge and have a higher chance of making a potential profit form their bets. Lastly, I will go over the legality of betting with the UFC and answer some of the more frequently asked questions regarding the UFC and mixed martial arts, and why I believe that the UFC is worthwhile for placing bets.
If you already have prior knowledge on the UFC and mixed martial arts, and just want to find a legal and secure site to place bets on – then check out my highly recommended sportsbooks listed below to register a new account and start betting
Popular UFC Type Events
As stated previously, the UFC has grown to be one of the most well-known and largest MMA organisations in the world. From its multitudes of fighters, fighting styles, events, and championships – the UFC has attracted millions of fans, along with potential bettors. Moreover, potential bettors should recognise the different classifications within the UFC to determine where they would desire to place their bets.
Amateur
In the UFC, the amateur rank does not mean that the fighter is not of a high skill or that they lack abilities needed to go professional. Instead, most amateur fighters stay in the amateur rank to improve their skills and get more experience fighting with different fighting techniques before they begin the process of trying to become a pro. In the amateur rank, the fighters are placed into their respective weight class, found an opponent with a different fighting style, and are judged by similar rules of the professional fights. One key factor to remember is that amateur fighters do not get paid for their matches.
Professional
These are the UFC matches that are broadcast on live television. The fighters in these matches get paid and have sponsors as well. They have extensive training in multiple forms of fighting techniques, and they also hold the titles as well. In professional matches, the fighters are paired with someone of their respective weight class who specialised in a different fighting technique. With this form of UFC fighting, bettors have more of a chance to make a high profit off of these fights.
Regarding these ranks, bettors should know that there are four top organisations that they can place their bets on, which are listed below:
In the UFC, there are currently nine weight classes that fights can fall in. In each weight class, a champion and title holder are declared and can be replaced based on how many fights they win or lose. As stated above, there could be forty or more matches in the multiple UFC headquarters at a given time, which gives bettors more opportunities to place their bets and make a potential profit.
Types of UFC Bets
As the UFC grew over the last decades, betting on the UFC and MMA fights have grown in popularity as well. With the UFC having one of the largest MMA audiences globally, there will always be opportunities to bet on your favourite fighters and matches and the possibility of gaining a profit. Online sportsbook has made the process of betting on the UFC online more convenient – but before a bettor can place their bet on a fighter or a match, they should know the various types of betting that occurs in the UFC. Listed below are some of the popular forms of betting in the UFC.
Money Line/ Match Bet
Money line bets are one of the most popular and well-known forms of betting within the UFC. In this betting style, bettors will have to select a fighter that they assume will win the match, no matter what winning method is used: takedown, higher points, submission of the opponent or technical dispositions (your opponent is too injured to continue). This form of betting is extremely popular with the big MMA matches due to the assumption that bettors will already have a strong prediction of who will win the fight. It also leads to more excitement if the two opponents are closely matched in skill.
Parlay Bet
Parlay betting is a style that the bettor must select on multiple winners for a match. This style can be good for bettors who have done their research on the players. However, one downside of the style is that the bettor will only win if all three fighters will their respective matches. Despite the higher stakes, bettors can have a higher opportunity of having a larger payout if they do guess the winners correctly.
Over/Under Bet
Over/Under betting is one of the more popular and easier betting methods that can be used for UFC fights. With this method, bettors will choose if the fight will last longer or shorter than the bookkeeper's assumption. To win an "over-bet", the match must pass at least 2.5 minutes of the second round. To win an "under bet", the match must end before 2.5 minutes of the second round.
Round Betting
This form of betting is similar to the over/under bet in regard to the fact that it is about the rounds itself. In this betting method, bettors must guess which round they believe the fight will end. It allows for more freedom than the over/under bet because they bettor does not have to focus on the match time so closely. Another feature of this bet is that bettors are allowed to bet on which fighter will win at a certain round. This betting styles can allow or a higher payoff.
Method of Victory
If a bettor is well versed in which way they believe a fight will end, then this betting method would be perfect for them. In this method, bettors will have to guess which way the fight will end, disregarding the winner completely. The three choices in how a fight will end are knockout, submission or if a certain player has a certain amount of points by the end of the match. This betting format allows for more freedom if the bettor is not too familiar or is unsure of who may win the actual match.
Live UFC Betting
With the UFC, betting during live matches are permitted. This form of betting can have a higher payout, plus it allows for bettors to feel more interested when they see the match play out live. Some sites permit bettors to bet in between rounds while others let bettors bet throughout the entire fight.
UFC Betting Tips and Strategies
One of the more interesting aspects about UFC betting is the everlasting flow of information that any potential bettor can come across when making their bets. However, this flow of information can sometimes be extremely overwhelming for a potential bettor.
Listed below are some of the important tips and strategies that a bettor can use while in the process of making their bet. Using the information below will ensure bettors that they will not be wasting their time trying to comprehend what certain terms mean and if they should do certain things.
rc="https://www.legitgambling.com/wp-content/uploads/2018/06/mixed-martial-arts-strategy.jpg" alt="UFC Betting Strategy" width="600″ height="250″ class="aligncenter size-full wp-image-1327″ />
Understanding Fighting Methods
When it comes to UFC matches, there are multiple forms of fighting techniques that fighters are permitted and encouraged to use. While many may believe that fights only have matches against opponents who have the same fighting specialisation – the UFC decides to pair opponents who have opposing fighting specialisations instead. The UFC permits Brazilian jiu-jitsu, judo, karate, Muay Thai, wrestling, and a few others, as fighting styles that are allowed to be used during a match. Although not every bettor is going to know the style in detail, it is heavily recommended that the bettor researches how the two opposing fighting styles are when matched against one another.
Understanding the Odds
Knowing the odds of a match is one of the key crucial aspects of UFC betting that bettors should know. No matter what a sportsbook's main goal is when it comes to betting is to generate their share of a profit – no matter who wins and loses a fight. That's why sportsbooks go the extra mile to ensure that bets are equal on both sides of the match. The odds are measured on a money line of 100 dollars and are represented by a plus/minus followed by a number that is attached to a fighter's name. If the
fighter has a plus by their name, it represents them being the underdog, while fighters who have a minus ate the fan favourite. In this system, plus-any-number shows how much the bettor will win in winnings if they bet $100. However, minus-any-number represents how much money a player will have to bet to be able to win $100.
How Often Should Bets be Placed
Even though the UFC hosts over a dozen of championships and events, many experts have come to the agreement that it is not safe to bet on every match or a good majority of them. The goal is to make a potential winning, but if the bettor makes the wrong assumption about a fight or details about the match, they could easily loose more money than they bring in. Calculated risks will be a bettor's best shot as making more winnings than losses. The bettor should focus on certain players, fighting styles, and other details instead of trying to have an in-depth knowledge of every player and their stats.
Knowing the Fighters
In the professional level, there are the top fighters in each weight class that has a title. Although they are usually the headliner fighters, it is equally as important to know other fighters in the UFC that are not as popular. Although, knowing the fighter goes deeper than knowing their stats and how many matches they have won/loss. The bettor should know if the fighter has any previous injuries that could hinder them during the fight, even if it's completely healed. The fighter should also especially look at what fighting specialisation the fighter is not as well versed in defeating.
Public Opinions
Each fighter will have their fans and people who do not necessarily like them in the UFC. However, the bettor should know that listening to these opinions will not increase or decrease their chance of making a profit. Instead, the bettor should ignore public opinion, unless it is regarding a fighter's possible injury or something major and do their own research when placing a bet. Remember, it is your money you are betting – you are responsible for making the correct, unbiased, calculated risks needed to earn a potential winning.
Legality of UFC Betting
Due to the rising popularity of the UFC, many bettors have wondered the simple question: is online sports betting illegal? This questions answer can vary depending on the country and the specialised laws there. However, in the United States, it is illegal to gamble online. However, nowhere in the Unlawful Internet Gambling Enforcement Act of 2006 (UIGEA) states that online betting on sports, such as the UFC, is unlawful. In certain states in the United States, such as Nevada, Delaware, Oregon and Montana, this practice is legalised and regulated. Despite this, many bettors who are US based and internationally based, use legal, licensed and secure offshore betting sites.
It goes without saying that sometime researching for a licensed and secure online betting site is tiresome for some bettors. Especially considering all the factors, they must consider before deciding on a site and a match to bet on. However, the sites that I have listed are surely to meet any expectations that any bettor will have. These sites feature: helpful and quickly responding customer service, valid and legal licensing, secureness of any personal information that is provided, and accurate withdrawal processing time.
Conclusion
The UFC is one of the largest MMA based organisations in the world, with millions of fans globally due to this organisation and sport being popular by many. Anyone who watches or decides to place a bet will have an interactive match to watch that will always be surprising and new – considering how there is a multitude of fighting styles that are permitted and a nice variation of aspects to bet on. Either way, betting on the UFC can lead to considerably large winnings being won. Though it goes without saying that bettors should make sure they keep this information in the back of their heads, it is important always to make sure that the site you plan on betting on is trustworthy, legal and licensed.
It is also important to learn the correct tips and terminology and do your research about the fighter before blindly betting on the player that seems to be the most popular. If a bettor follows these steps, then they are sure to have success while betting in this market.
UFC

FAQ Section
When do the Matches Happen?
What are the Different Ways Winners are Determined.
Why Does the UFC Have Headquarters in Different Countries?
Why would I recommend UFC Betting