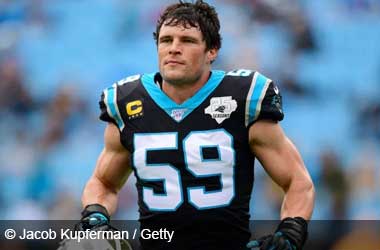 Carolina Panthers star linebacker Luke Kuechly has announced on social media his imminent retirement from professional football at the age of 28.
Kuechly who was clearly emotional in the video, laid out the thinking process that led to his decision, stating that he was no longer confident in his ability to play football in the physically tough, mentally resilient way that he was used to playing since childhood.
Although Kuechly expressed the desire to continue playing, he stated that, after a long series of deliberations, he could no longer put off retiring from the NFL. Kuechly is considered one of the best linebackers in the league. His protracted NFL career features 1,092 tackles, the highest of any player since 2012.
Kuechly also has 18 interceptions and 75 tackles for loss, the third and fifth most for a linebacker in franchise history since 2012, respectively.
"In my heart, I know it's the right thing to do." pic.twitter.com/mSDyJ0iEMw

— Carolina Panthers (@Panthers) 15 January 2020
Kuechly did not explicitly identify the reasons for his inability to play football in the way that he wanted, but it can be assumed that his history of concussions played a key role: from 2015 to 2017, Kuechly sustained concussions that made him miss seven games.
The concussions became such a problem for Kuechly that, for the last three seasons, he used an experimental "Q Collar" that purportedly decreased the risk for concussions. He last sustained a football-related concussion in 2017; thought Kuechly missed time in training camp, he maintained that it was not concussion-related.
Kuechly filmed his retirement announcement in the linebackers' room of the Bank of America Stadium, where he reviewed the videos that made him one of the premiere linebackers in the NFL.
Sports Productions
Kuechly's Decision Met with Support
Ron Rivera, Kuechly's former coach at the Carolina Panthers picked Kuechly in the NFL 2012 draft. The current Washington Redskins coach expressed his support for Kuechly's decision, saying that he was proud to have played a role in Kuechly's short but eventful career.
Panthers owner David Tepper released a statement that acknowledged the positive impact that Kuechly has had with the team. Tepper said that, despite only knowing Kuechly for two seasons, he was able to recognise the value Kuechly created in the team in and out of the playing field. Tepper said that although he would have liked Kuechly to play on and stay with the team for more time, he affirmed that the Panthers organisation respects his decision and wishes him well.