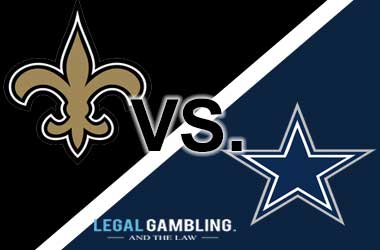 The Saints head to Dallas in a matchup of 2 division leaders. The Cowboys lead the all time series 16-12, but the Saints have dominated the series as of late, winning 9 of the last 11.
New Orleans continued their tear last week in a 31-17 win over Atlanta. In week 10 they beat the Bengals 51-14, and in week 11 they beat the Eagles 48-7.
Dallas has won 3 straight, most recently 31-23 against the Redskins on Thanksgiving. In week 10, they beat the Eagles 27-20, and beat the Falcons 22-19 in week 11.
BetOnline has the Saints as 7.5 point favourites on the road, and an O/U has not been posted.
New Orleans Saints
The level of efficiency and explosiveness that the Saints offense is playing at right now is ridiculous. Drew Brees has thrown for 3135 yards, 29 TDs, 2 INTs this year and is averaging 8.8 YPA while completing an astounding 76.4% of his passes. Michael Thomas is far and away their #1 receiver, tallying 86 receptions for 1080 yards and 8 TDs this season. Alvin Kamara is their de facto #2 receiver with 519 yards and 4 TDs on 57 catches this season. Kamara also leads the team in rushing with 706 yards and 11 TDs on 150 carries, while Mark Ingram has rushed 90 times for 440 yards and 4 TDs.
The Saints D is average in terms of scoring, allowing 23.3 PPG. The Saints are bottom 5 in passing defense, allowing 285.7 yards per game and 21 TDs, and are just outside the top 10 in sacks with 30. They have the #1 ranked run defense, allowing just 73.2 yards per game, but have allowed 10 TDs on the ground.
Injuries and Inactive Watch
WR Tre'Quan Smith (toe) – questionable, T Terron Armstead (shoulder) – questionable
Dallas Cowboys
The Cowboys formula has played to perfection the last few weeks. Dak Prescott is playing more comfortable and efficient, and Zeke has been the workhorse. Prescott has thrown for 2427 yards, 13 TDs and 5 INTs on the year while averaging 7.2 YPA and completing 65.2% of his passes. Amari Cooper had his best game as a Cowboy last week, and now has 22 catches for 349 yards and 3 TDs since the trade.
Cole Beasley is the safety valve, catching 46 passes this season for 459 yards and 2 TDs. Ezekiel Elliott leads the team with 47 receptions which have gone for 363 yards and 2 TDs. On the ground, Zeke has 1074 yards and 6 TDs on 217 carries this season, while Dak has 279 yards and 5 TDs on 58 carries.
The Cowboys defense is top 5 in scoring defense, allowing just 19.4 PPG. They are just outside the top 10 in pass defense allowing 237.5 yards per game and 15 TDs through the air, and are just outside the top 10 in sacks with 31. Dallas is top 5 in run defense, allowing just 93.6 yards per game and 7 TDs on the ground.
Injuries and Inactive Watch
T Tyron Smith (neck) – questionable, EDGE Taco Charlton (shoulder) – questionable
Predictions
Call it crazy but the Cowboys have the recipe to slow down the Saints. Getting pressure on Drew Brees has come sparingly this season, but the Cowboys have the pieces up front to get in his face with just 4 rushers, and sit back in coverage with 7. Expect Sean Payton to gameplan Michael Thomas away from lockdown corner Byron Jones, but the underneath defenders for the Cowboys have been stellar, and should give Thomas fits. The Cowboys should also give the Kamara/Ingram duo fits on the ground with their excellent linebacker play.
The key to the game is whether the Cowboys can something that no one else in the league has been able to do. They need to control the clock and keep the ball away from Drew Brees and the Saints explosive offense. This does not necessarily mean pounding Zeke play after play, but being creative with short passes, screens, and zone reads to keep the Saints front 7 off balance. The Saints coverage has not been great, and after last week Dak will be looking Amari Cooper's way a lot. If he can come up with a big play or 2, the Cowboys will be in business. With the game being at Jerry World, and the Cowboys proclivity for ball control offensively as well as their top 5 defense, lean Dallas at home here +7.5 unless this spread comes down.
Final Pick: Cowboys (+7.5)