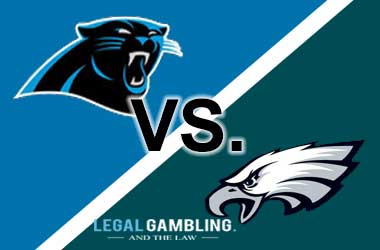 Two 3-win NFC teams go at it in Philly Sunday when the Panthers take on the Eagles. The Eagles lead the all time series 7-3, but the 2 have split their last 4 matchups dating back to 2012.
The Panthers lost a tough one to Washington last week 23-17. Previously, the beat the Bengals 31-21 in week 4, and beat the Giants 33-31 in week 5. The Eagles smoked the Giants 34-13 last Thursday. They lost 26-23 to the Titans in week 4, and lost to the Vikings 23-21 in week 5.
Bovada has the Eagles as 4 point favourites, and an O/U total has not been posted yet.
Carolina Panthers
The Panthers lost a slugfest against Washington , and very well could have ended up on top if a few things bounced their way. Cam Newton played fairly well, outside of a bad interception to Josh Norman, throwing for 2 TDs and 275 yards on 27/40 passing.
Newton also added 9 carries for 43 yards on the ground, and was the team's leading rusher. I feel they got away from Christian McCaffrey and the ground game a bit too early, even though the game was never out of reach. McCaffrey only rushed 8 times for 20 yards, but also caught 7 passes for 46 yards. Devin Funchess lead the Panthers with 74 yards and a spectacular TD grab on 5 catches. The offensive line was questionable coming into the game, but held their own against a very good Washington pass rush.
The defense was put into a few bad spots due to turnovers, but did their job fairly well, holding Alex Smith to 163 yards passing and 4.5 yards per attempt. They just couldn't slow Adrian Peterson down enough when it mattered, as he ran for 97 yards on 17 carries.
Injuries and Inactive Watch
No injuries reported yet
Philadelphia Eagles
The Eagles offense finally turned it on against the Giants. Carson Wentz was efficient and safe with the ball, throwing for 278 yards and 3 touchdowns on 26/36 passing. He and Alshon Jeffery are getting back on the same page as well, as Jeffery caught 8 balls for 74 yards and 2 TDs. Nelson Agholor was also an impact in the pass game, taking 3 catches for 91 yards, while Zach Ertz picked up 43 yards and a TD on 7 catches.
Wendell Smallwood and Corey Clement are taking over for Jay Ajayi by committee, and had 29 carries for 94 yards, and 4 catches for 26 yards combined. The offensive line performed better against a weak Giants pass rush, but is still not performing up to their 2017 standards.
The defense continues to struggle in coverage, and while Eli Manning could not take full advantage, their shortcomings were evident. Up front, the Eagles were solid in the pass rush department, sacking Eli 4 times, but struggled with gap integrity allowing Saquon Barkley to find cutback lanes on his way to 130 yards on just 13 carries.
Injuries and Inactive Watch
OT Jason Peters (bicep) – questionable, CB Sidney Jones (hamstring) – questionable
Predictions
This game might end up better than it looks on paper. Christian McCaffrey is another threat out of the backfield, and the Giants allowed 9 catches and 99 yards to Saquon in the pass game last week. I expect the Panthers to get McCaffrey involved frequently, along with some deep shots to Torrey Smith and D.J. Moore to see if they can take advantage of the Eagles secondary. As always, Cam Newton is an extra threat with his legs, and the return of Greg Olsen last week gives Newton his safety valve over the middle.
The Eagles offense appears to be hitting their stride, and getting back to their 2017 form. The Panthers D is no slouch however, and could give Philly trouble especially if Carolina gets an early lead and are allowed to sit back in coverage and make plays.
Carolina's pass rush, while aging, is still capable of getting to the quarterback, and Philadelphia's offensive line is not what it used to be. We are going to take Carolina and the points. Carolina has played every team competitively, and could easily be 5-0.
Final Pick: Panthers (+4)