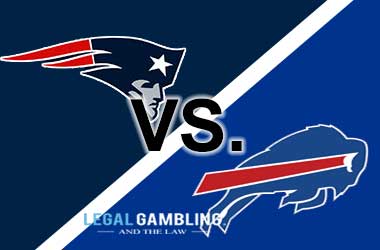 Two AFC East teams face off in primetime Monday night as the Patriots take on the Bills. The Patriots lead the all time series 71-43-1, and have won 3 straight in the series.
The Patriots defeated the Bears a week ago 38-31 behind 2 special teams touchdowns. In week 5, they beat the Colts 38-24, and outlasted the Chiefs 43-40 in week 6.
The Bills are coming off a 37-5 drubbing by the Colts last week. In week 5, they defeated the Titans 13-12, and lost 20-13 to the Texans in week 6.
Intertops have the Patriots as 14 point favourites on the road, with an O/U set at 44.5.
New England Patriots
After back to back losses in week 2 and 3, the Patriots have won 4 straight. Tom Brady continues to be an ageless wonder with 1876 yards and an 18-7 TD-INT ratio. The Patriots now have so many weapons to attack opposing defenses, and the emergence of Josh Gordon (13/224/1 in NE) has really taken this offense over the top. Tom Brady appears to have full trust in his new receiver, showing it on 4th down last week by targeting Josh Gordon, who came through with a 21 yard catch.
Julian Edelman continues to be a clutch target on 3rd down, and is still readjusting after missing all of last season and part of this season. The backfield duo of Sony Michel and James White has proven to be incredibly potent for what the Patriots want to do. White leads the team in targets (57), receptions (45), touchdowns (6), and is second in yards (380) while Sony Michel is averaging 4.4 yards per carry on his way to 422 yards. The offensive line has had some bad moments, but Brady's subtle movements and quick release mitigate any issues they have.
Trey Flowers and Adrian Clayborn have brought the majority of the pressure with 23 a piece, but have just 4 combined sacks. The defense as a whole has 10 interceptions and 4 forced fumbles. While they aren't flashy, they are one of the most sound units in
the league.
Injuries and Inactive Watch
CB Eric Rowe (groin) – questionable, WR Josh Gordon (hamstring) – questionable, RB Sony Michel (knee) – doubtful
Buffalo Bills
This is a bad Buffalo Bills. Derek Anderson started last week in place of an injured Josh Allen, and I would assume that will be the case this week as well due to the other option (Nathan Peterman). Anderson threw 3 picks last week against a below average Colts defense, and averaged 5.6 yards per attempt. Outside of Zay Jones, the receiving corp inspires almost negative confidence.
Jones has 19 catches for 226 yards and a TD this season, while his counterpart Kelvin Benjamin has 14 catches for 217 yards and a TD, as well as 4 drops. Backup tight end Jason Croom has the only other receiving touchdown on the team. Buffalo running backs have combined for 577 yards on 151 carries. The offensive line hasn't been as bad as you might think, but they are susceptible to penalties.
Defensively, Buffalo is pretty solid actually. Jerry Hughes has been a stud off the edge with 36 total pressures including 5 sacks and 7 QB hits, while Kyle Williams has 6 sacks from the interior. Cornerback Tre'Davious White has allowed just 12 catches on the year, while nickel corner Taron Johnson is breaking out while allowing just 6.6 yards per attempt
Injuries and Inactive Watch
QB Josh Allen (elbow) – out, QB Derek Anderson (back) – questionable, HB LeSean McCoy (concussion) – questionable, HB Chris Ivory (hamstring) – questionable
Predictions
This one is tricky. A double digit underdog at home usually means hammer the underdog, but Buffalo's defense is savvy enough to create some turnovers and make life hard for Brady at least. Their coverage has been solid, but the Patriots just have too many weapons to consider that an advantage for Buffalo. Without Michel, the Patriots will be fairly one dimensional, which does help Buffalo.
Buffalo's offense is just atrocious, and you know Belichick and Co. will have a bead on what Brian Daboll wants to do offensively (Daboll has done 2 stints in NE with Belichick). I expect some more bad turnovers, and pretty much unwatchable football from the Bills offense.
While we think the Patriots should and will win by double digits, 14 is just too much for me, and there is no way we are putting any confidence in the Bills at this point. The Under does seem appealing, as I think Buffalo can do enough to slow the Patriots down offensively, and Buffalo won't do much on the scoreboard themselves.
Final Pick: UNDER 44.5