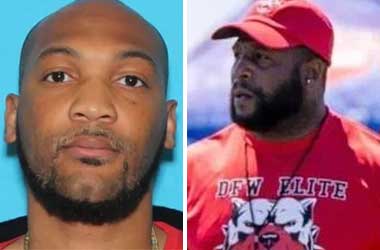 Summary
Former NFL cornerback Aqib Talib's brother shot and killed a youth football coach
The murder took place in front of children who were playing a game of football
Yaqub Salik Talib has surrendered to the police and wants to tell his side of the story
Aqib Talib is a former NFL cornerback who was drafted by the Tampa Bay Buccaneers in 2008 and would later go on to the play for the Denver Broncos.
He retired from the NFL in 2020 and was recently appointed as a commentator for Thursday Night Football on Prime Video.
Yaqub Salik Talib Murders Youth Football Coach
Aqib Talib and his brother Yaqub Salik Talib were part of the North Dallas United Bobcats team where they served as youth football coaches. The North Dallas United Bobcats was playing a game over the weekend in Texas against the D.E.A. Dragons where Michael Hickmon was the youth football coach.
Both Aqib Talib and Yaqub Salik Talib were present during this game when an argument broke out between the 39 year old Yaqub Salik Talib and the 43 year old Michael Hickmon. A fight started between the two men and things quickly escalated and Yaqub Salik Talib caught everyone by surprising includes his brother when he decided to pull out a gun and shoot Hickmon in front of all the kids who were part of the game.
After shooting Hickmon, Yaqub Salik Talib immediately fled from the scene with his gun. Hickmon was rushed to the hospital but unfortunately did not make it.
Mike Freeman, President for the D.E.A. Dragons said that the altercation started when Hickmon tried to pick up a football but someone kicked it away. Freeman said he was struggling right now trying to explain things to the children who witnessed the shooting while playing a game of football.
Aqib Talib said he was shocked by this unfortunately tragedy and sent out condolences to the Hickmon family and all the children who witnessed the incident.
Yaqub Salik Talib Surrenders And Wants To Tell His Side
While Yaqub Salik Talib initially fled the scene, he would later go on to turn himself to the authorities and hired Clark Birdsall to be his legal representative. Birdsall said that his client regrets the loss of life but was keen on telling his side of the story but did not provide any further details.