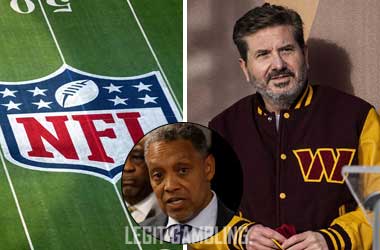 Summary
DC Attorney General has filed a lawsuit against the NFL, Washington Commanders And Dan Snyder
The lawsuit claims that all three parties deceived the residents of Washington DC
The lawsuit is seeking financial damages that remain unspecified but could amount to millions of dollars
The National Football League (NFL), Washington Commanders and Commanders owner Dan Snyder have been hit with a lawsuit filed by DC Attorney General Karl Racine.
The lawsuit claims that all three parties have deceived the residents of Washington DC and must be held accountable for their actions.
Lawsuit Claims Fans Kept In The Dark For Financial Reasons
The office of the Attorney General filed the lawsuit on the basis that all three parties violated the District of Columbia's Consumer Protection Procedures Act. The AG has the authority to crackdown on companies or individuals suspected of misleading customers.
The lawsuit claims that the NFL, Washington Commanders and owner Dan Snyder covered up their toxic workplace culture and allegations of sexual misconduct for years so that they could continue to profit financially. The deliberate cover-up deceived the fans and residents of Washington DC for years and Racine believes that all three parties must be held accountable.
The lawsuit seeks financial compensation for on-going deception from July 2020 but no financial amount was specified. However if the AG's office ends up winning the lawsuit, it could result in a multi-million dollar settlement, which could have an impact on the Commanders sale.
The lawsuit stems from the fact that the Washington Commanders admitted to toxic workplace culture after they faced a lawsuit from 15 ex-employees who claimed that they were verbally abused and sexually abused on the job. The Commanders and the NFL launched an investigation into those claims and as a result the NFL fined the Commanders $10 million and Dan Snyder relinquished control of the team to his wife Tanya Snyder.
The NFL did not release the findings from the investigation into the public domain and received criticism for continuing to cover-up the misdeeds of the Commanders.
NFL and Commanders Respond To Lawsuit
The NFL and the Commanders released a statement in response to the lawsuit filed by DC Attorney General Karl Racine. The Commanders stated that they agreed with Racine that the public needs to know the truth but said the lawsuit contained a lot of lies and half-truths.
The NFL said in its statement that the lawsuit was factually baseless and legally unsound.