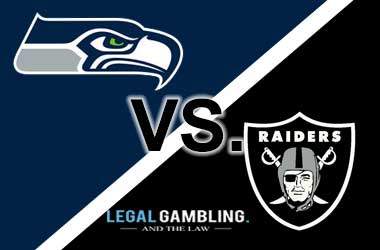 In the first international game of the season, the Seahawks and the Raiders travel to London to play at Wembley Stadium. The Raiders lead the all time series 28-24, and the 2 have split their games 5-5 going back to 1999. It will be the Seahawks first time playing in London, and the 3rd time for the Raiders (last in 2016).
The Seahawks are coming off an emotional loss to the division rival Rams 33-31. They beat the Cowboys 24-13 in week 3, and beat the Cardinals 20-17 in week 4. The Raiders lost 26-13 to the Chargers last week. They lost to the Dolphins 28-20 in week 3, and beat the Browns 45-42 in overtime in week 4.
Vegas has the Seahawks as 3 point favourites, with an O/U total of 48.
Seattle Seahawks
Seattle Seahawks
The Seahawks clawed and fought hard against the undefeated Rams, playing well on both sides of the ball. Russell Wilson only threw the ball 21 times, completing 13 for 198 yards and 3 touchdowns, finding chunk plays through the air repeatedly. Tyler Lockett was the main beneficiary, catching 3 balls for 98 yards and a TD, but David Moore chipped in with 3 catches for 38 yards and 2 touchdowns.
The Seahawks ran the ball at will Sunday, totaling 190 rushing yards as a team. Chris Carson ran 19 times for 116 yards, and Mike Davis carried the ball 12 times for 68 yards and a TD. For the first time this season, Seattle really held the opposing pass rush in check, allowing just 5 total pressures and 2 sacks.
The defense was not as impressive as the offense, but held it's own as well as any team against the Rams this season. They failed to record a sack, but pressured Jared Goff on over 30% of his dropbacks. Seattle picked off Goff twice, and did a good job of containing the Rams deep crossers for the most part.
Injuries and Inactive Watch
LB K.J. Wright (knee) – questionable, EDGE Rasheem Green (ankle) – questionable, G Ethan Pocic (ankle) – questionable
Oakland Raiders
The Raiders offense was stagnant against the Chargers. Derek Carr was meh, completing 24 of 33 passes for 268 yards, a TD, and an INT, and never really got into a rhythm.
Martavis Bryant had a big game, taking 3 catches for 91 yards, but had a killer fumble that set the Chargers up with great field position in the first half. Other than that, the receivers were a non factor, as Amari Cooper caught 1 ball for 10 yards and Jordy Nelson had 4/43/1. Marshawn Lynch only carried the ball 9 times, going for 31 yards, and Oakland only had 12 designed runs as a team. Starting 2 rookies at tackle is not usually a recipe for success, and the Kolton Miller/Brandon Parker combo combined for 12 allowed pressures and 3 sacks.
The defense continues to struggle to generate pressure, and had just 11 on the day against a weak Chargers OL. Arden Key and Bruce Irvin had 4 a piece, and Irvin recorded the Raiders only sack. Tahir Whitehead was attacked in coverage, allowing 5 catches for 97 yards and 2 touchdowns.
Injuries and Inactive Watch
G Kelechi Osemele (knee) – questionable, S Karl Joseph (hamstring) – questionable
Predictions
These NFL London games can be tricky, and I tend to lean with the better QB/ coaching staff as a rule of thumb. Yes the Raiders have experience overseas, but the Seahawks are playing much better football right now.
Seattle should be able to run the ball successfully again especially if they keep the game script in their favor. If they have to throw the ball a lot, the Seattle offensive line has a much easier task this week of containing the Raiders subpar pass rush, and Russell Wilson is always capable of some WOW throws.
Oakland has to keep this game in their favor if they have any hope of coming home with a win. Marshawn Lynch has to be featured to take the pressure off Derek Carr. Oakland will be rolling out 2 rookies at OT again, and Seattle has the edge rushers in Frank Clark, Quinton Jefferson, and Dion Jordan to take advantage.
Like we said, we are taking the better QB and the better coach here in a game that can really be a toss up. Jon Gruden has shown me nothing to date to say I feel confident that the Raiders can go 5000+ miles and be competitive when they can't even go 400 miles and keep a game close against a struggling Chargers team.
Final Pick: Seahawks (-3)