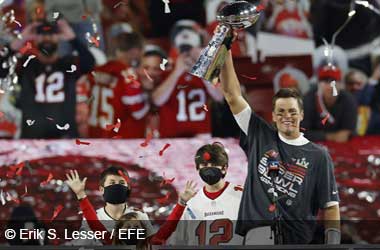 Defending champions Kansas City Chiefs were the betting favorites to win Super Bowl LV but an upset was potentially on the cards as the Tampa Bay Buccaneers approached Super Bowl Sunday.
The Chiefs knew that they would have to play at their very best if they were going to successfully defend the Vince Lombardi Trophy and lift it for the second consecutive time.
The Chiefs did not play as well as they would like and one of the reasons for that is because the Buccaneers put in a tremendous performance both offensively and defensively. The end result was that the Tampa Bay Buccaneers finished on top with a 31-9 scoreline that made the game seem rather one sided at times.
Tom Brady who was playing his first season for the Buccaneers was exceptional during Super Bowl LV and put in a match winning performance.
CBS Sports HQ
The Buccaneers had the advantage of playing at home even though the stadium was not packed to capacity due to COVID-19 restrictions. Only 25,000 fans were in attendance but the stadium looked full on television as there were 30,000 cardboard cut outs of smiling faces of individuals who paid $100 to get their face plastered over a cardboard cut-out for Super Bowl LV.
Brady scored three touchdowns for the Buccaneers during the first half that demoralized the Chiefs and took the game away from them. Brady was also involved in creating two great passes to Rob Gronkowski that showed the Chiefs that any weakness in defense will be exploited.
The Chiefs depended heavily on their QB Patrick Mahomes to score but he did not showcase his usual brilliance and the Chiefs had to settle for second place.
Brady Promises To Be Back
Tom Brady created history on Sunday night by winning his 7th Super Bowl championship. The 43 year old Brady made it clear to his fans that he has no plans to retire at the moment and said that he would be back next season. This is definitely good news for the Buccaneers and Tom Brady fans.
This was a tough season for the NFL due to the COVID-19 and restrictions. However, the NFL will be happy to complete the season on a high. The NFL will be a lot more prepared for the coming season and will hope that fans will soon be allowed back into stadiums once the COVID-19 vaccine is rolled out.