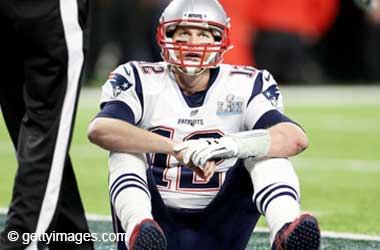 Tom Brady is the biggest superstar in the NFL and there have been rumours circulating for the last couple of years as to when Brady will call it a day with the NFL and his New England Patriots.
The 3 time MVP award winner and 5 time Super Bowl champion sat down with Oprah Winfrey and discussed both his professional career as a quarterback with the Patriots and his private life as a husband to supermodel Gisele Bundchen and father to three kids (two with Gisele Bundchen and one with actress Bridget Moynahan).
The interview with Oprah aired on Father's Day (June 17) and Brady admitted that he was thinking about retirement a lot more these days than ever before.
To some NFL fans this may come as a surprise as the 40 year old Brady has always maintained that he wants to play for another 4 to 5 years.
OWN
Brady is extremely fit and is by far the best player in the NFL whose career has stood the test of time. However, it appears that Tom Brady wants to spend more time with his family and be a normal dad and that might just get him to pull the curtains on his NFL career earlier than some might have expected.
Brady has just about accomplished everything he could in the NFL and is a future Hall of Famer for sure. He also spoke about his differences with Patriots head coach Bill Belichick and said that he still loves him but they don't agree on everything. This could be one of the factors that also play into the timing of his retirement.
Brady Discusses 'Taking A Knee' In The NFL
Brady has been a supporter of President Donald Trump and was put in an uncomfortable position a few times after President Trump lashed out at NFL players for 'taking a knee' during the National Anthem. Oprah did get Brady to open up on his thoughts about taking a knee.
In a statement, Brady said
I've been playing sports long enough, everyone comes from something different, and I think showing respect for everybody, in a locker room, with a team of guys trying to go in the same direction — you better have that empathy for everybody. That's what sports are about
The NFL has changed its policy for the coming season and now players who do not wish to stand for the National Anthem can choose to stay inside the locker room. However, they will not be allowed to take the field and take a knee – if they do so, they can be suspended.