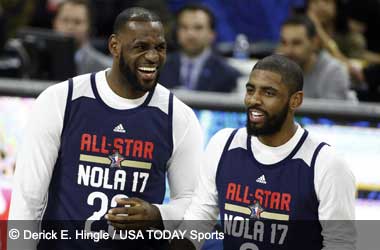 Summary:
LeBron James said he would consider his future in the NBA after the Lakers exited the playoffs
Rumours now suggest that Kyrie Irving is keen to get James to join the Dallas Mavericks
Will James consider teaming up with Irving once again before he retires?
LeBron James had another good season with the LA Lakers but despite all his efforts, the Lakers were eliminated in the playoffs this season. James who has always played down retirement talk in the past whilst also giving people a glimpse of his future prospects, surprised fans when he said he needed time to think about his future in the NBA.
Kyrie Irving Keen On Getting Lebron To Sign With Mavericks
Shams Charania from The Athletic has reported that Kyrie Irving has gotten in touch with LeBron James to ask him to consider the possibility of joining him and playing for the Dallas Mavericks.
Sources: Kyrie Irving has reached out to Lakers star LeBron James in attempts to see if James would come to Dallas. Irving is a free agent this offseason.

— Shams Charania (@ShamsCharania) June 5, 2023
Irving and James have history together as they both played for the Cleveland Cavaliers and won an NBA Championship back in 2016. It looks like Irving would like to rekindle that partnership as he wants the Mavericks to consider options in trading to get James on board.
James is 38 years and will turn 39 at the end of the year. It's safe to say that he is near the end of his career and would dearly like to win one more NBA Championship before he retires. Should he decide to play another season in the NBA, he will have to weigh his options and decide whether he can do that with the Lakers or with Irving and the Mavericks!
Would Make More Sense For Irving To Join Lakers
It seems unlikely that James would leave the Lakers and end up with the Mavericks. James will make $46.9 million with the Lakers next season and is under contract to make $50.7 million for the 2024-2025 season. He has his family and business based out of L.A and his eldest son who has already agreed a NIL deal with Nike is to play for USC during his freshman season.
Earlier this season, Irving decided to move on from the Brooklyn Nets and wanted to join Boston Celtics but the Mavericks ended up signing Irving who will become a free agent shortly.
Irving could re-sign with the Mavericks or consider making a move to the LA Lakers to join LeBron James and see if they can win another NBA championship together!