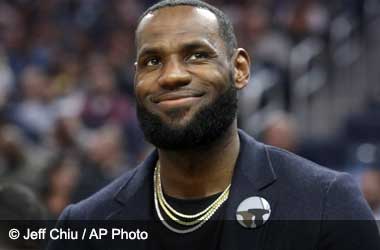 Summary
LeBron James asks NBA Commissioner to approve Las Vegas NBA team
James says he is very keen on buying in and owning an NBA team
The NBA has plans to expand its franchise and add new teams but has not confirmed when
LeBron James has very clear cut goals when it comes to his goals as a player or his goals as a business owner. The 37 year old who plays for the LA Lakers signed a new $97.1m extension deal in August made it clear that he will not retire anytime soon, as he wants to play in the NBA alongside his son before he retires.
James has now also made his business goals very clear after he called on NBA Commissioner Adam Silver to approve a new NBA franchise as he wants to buy in and become the owner of an NBA team.
James Sets Sight On Las Vegas NBA Team
The Lakers recently played a preseason game in Las Vegas against the Phoenix Suns and that prompted James to call on Silver and ask him to approve an NBA franchise in Las Vegas. James said he felt the best fan base in the world was situated in Las Vegas and it made perfect sense for the NBA to approve a Las Vegas NBA team.
James is one of the best players in the NBA and is also an astute businessman. He recently became the first active player in the NBA to have the billionaire tag attached to his name. While King James looks to help the Lakers win another NBA Championship this season, he is also focused on his business ventures.
James also has a stake in a Premier League club, Liverpool F.C., Italian Giants AC Milan and the MLB's Boston Red Sox.
NBA Looking At Expansion But No Timeline
The NBA does have plans to expand its league and add another franchise but has not specified a timeline for this. The NBA will either approve a new franchise in Seattle, since the Seattle Supersonics shutdown in 2008 or will approve an NBA franchise in Las Vegas, Nevada or maybe both.
The NBA is currently focusing on negotiating a new television contract and once that's done will pay more attention to approving a new team. The NBA currently does not allow active players to own an NBA franchise but those rules could change to accommodate King James.