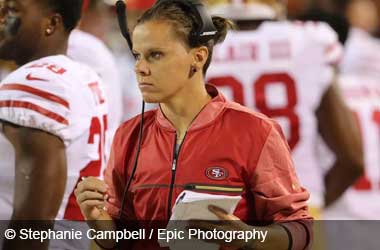 Kate Sowers, an offensive assistant for the San Francisco 49ers, is set to become the first woman who is part of the NFL coaching start to feature in the Super Bowl.
Sowers attended the Opening Night for Super Bowl LIV earlier this week. She was interviewed by multiple news outlets who spoke to her about her monumental achievement. Sowers was very well aware of what she is about to achieve on Super Bowl Sunday and said that it is surreal and difficult for her to believe.
However, Sowers noted that while it was special to be the first woman in the Super Bowl, it is much more important to ensure that she will not be the last woman to reach the pinnacle of professional football.
This is Sowers' fourth season in the league, spending the last three years with the 49ers, two of which are in her current position. She began as a member of the minority internship program for the Atlanta Falcons in 2016, where she first met the 49ers' coach Kyle Shanahan, then-offensive coordinator for the Falcons. Shanahan was hired as the coach for the 49ers in 2017, where he hired Sowers as a seasonal offensive assistant after she successfully finished another internship with the team.
Spin
In her position, Sowers helps prepare the team's skill position players for offensive execution. She has been praised highly in the team, with wide receiver Emmanuel Sanders and quarterback Nick Mullens singling her out as a key component of the 49ers' success.
One of Sowers' most ardent fans is 49ers wide receiver Kendrick Bourne. He recalled dropping a number of passes in his first preseason game due to nerves, but was helped by Sowers to calm down and play better later in the game. According to Bourne, Sowers knew how to get players to relax without losing their edge and play their A-game on the field. Bourne has flourished in the 49ers' rotation since then, as one of the team's most reliable receivers, particularly in the red zone.
Sowers Wants to be Head Coach Someday
Sowers is one eight female coaches in the NFL, half of whom retain full-time positions; she has been in the league the longest among them. As the first female coach in the Super Bowl, Sowers was in the hot seat last Monday regarding her future plans, floating the possibility of her becoming a head coach one day.
Sowers admitted that being an NFL head coach is her dream, and plans to take on that opportunity if it should ever present itself. For now, Sowers is busy as she prepares her team to win on Super Bowl Sunday.
Don't forget to checkout our preview of Super Bowl LIV, will Kate and the 49ers create a little bit of history.